15th Ashtead 10k 'eco-race' and 2k fun run - 2020
11am onwards, Sunday 13 September 2020 (2k Fun Run at 10.30).
The event today was a TRIUMPH - It happened!
Rate the Ashtead 10k and 2k fun run here
Ashtead 10k 2020 results - 2k results are here - you may need to refresh your browser window/cleanse your history or dump your cache
Steve Rencontre's photos of the Ashtead 10k & 2k fun run 2020
Photos of the Ashtead 10k by Stephen R. Johnson
Steve Rencontre's amusing Photo-Story from the Ashtead 10k 2020 (plus amazing optical illusion).
On 13 September 2020, during the Coronavirus Pandemic but with a variety of precautions in place to keep marshals and runners safe, a capped number of athletes assembled on Woodfield, Ashtead, to stage one of the very first running races in the UK, post-Lockdown. Runners are particularly thankful to the Ashtead Common Rangers and the Corporation of the City of London for permission for the event to take place.
And what a day it was to be alive! The sun shone, the birds sang and some fantastic athletic performances were seen - with many runners overcoming their own challenges to triumph in their own way. For the ladies, Claire Whittaker, 46, was third in 46:03, while Sophie Lomas, on her 16th birthday, was second in 45:16. In first place for the ladies was Emma Coates, 20, who finished in 43:19. For the gentlemen, Daniel Evans (DMVAC), 17, was third in 37:47, while local lad Steve Winder (Epsom & Ewell Harriers), 49, was second in 36:46 (not bad for an older guy). However, in first place, running for Dorking and Mole Valley Ahtletic Club was George James, 26, finishing in 34:13 and setting a new course record (a record that had been held for 11 years by fellow DMVAC athlete Nick Hodges). Well done George!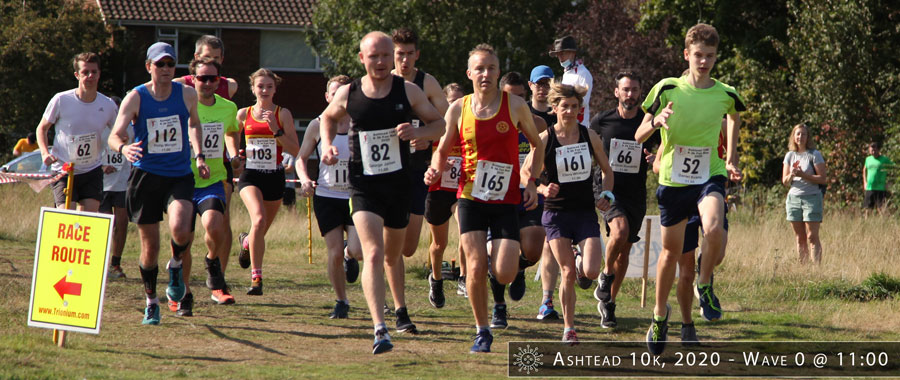 Above: 'Elite Wave' start at the Ashtead 10k 2020 by Stephen R. Johnson. George James wears No. 82, Steve Winder 165, Daniel Evans 52, Claire Whittaker 161 and Sophie Lomas 103.
Huge thanks to all the many marshals who helped out in many different ways!
Quote of the day #1: "Just thought I'd drop a quick email to say how well organised and up lifting today's 10k was. It provided some sense of normality but was also reassuring to know the measures you had in place to keep everyone safe. Well done on organising such a great run." Sarah Illingworth
Quote of the day #2: "Just wanted to say thanks for a fantastic race again. I can't imagine how much more difficult it was to organise this year with all the restrictions but I think it was well worth it! With so many races cancelled it has been great to have something to look forward to, so thanks to you and all the team." Bryan Bailey
Quote of the day #3: "I'm sure I speak for many in wanting to say a huge thank you for your organisation, commitment and energy to make the Ashtead 10K such a great success. I thought the COVID measures worked brilliantly and the event was still hugely enjoyable." Adrian Zambardino
Quote of the day #4: "I took part yesterday and just wanted to say a heartfelt thanks for getting the event on, and doing so in such a safe, yet seemingly relaxed way. It was a joy to be involved as ever, and a big thanks also to your fantastic marshals, and volunteers at the start/finish." Ken Bradshaw
Quote of the day #5: "The few necessary changes to keep everyone safe were re-assuring and the rare chance to race, plus superb marshalls and volunteers meant the feel good factor was huge. There was sunshine and the out and back route meant that every single runner got to gasp in awe as the 11 year old course was smashed to pieces. Huge thanks to Rob, City of London Corporation and Ashtead Common Rangers for finding a way to hold a Covid-safe event and to Rianna's Fund for providing many of the volunteers." Andy Lomas
Below: Ashtead 10k 2020 - 'Elite wave' start. Eventual winner and course-record breaker George James (26, Dorking and Mole Valley AC) in black, with second place athlete Steve Winder (49, Epsom and Ewell Harriers) in red, and eventual third place athlete Daniel Evans (17, Dorking and Mole Valley AC) in green. The 11-year-old course record was broken by George James in a time of 34:13. Photo by Steve Rencontre
With the kind permission of the Ashtead Common Rangers and the Corporation of the City of London
Organised to benefit Rianna's Fund - our local charity
Exploring Ashtead Common
'Its a great event and a key part of the Ashtead year,' Bryan Bailey
'Mob Match' special mention for the running club that registers the most runners
All runners receive a special eco-medal, and free entry into the post-race raffle.
You should be 14 years or older to run in the 10k.
Course records: George James (26), DMVAC: 34:13 (2020); Katherine Wilson (28), 26.2 RRC: 41:14 (2013)
Special measures for coronavirus 2020 - Ashtead 10k and 2k fun run
These are the race instructions for the Ashtead 10k 2020 - for Rianna's Fund - which includes important changes from previous years. Please read the following instructions very carefully!
The race takes place with the kind permission of the Ashtead Common Rangers and the Corporation of the City of London, and is permitted and insured by the Association of Running Clubs.
A full Covid-assessement has been undertaken, and is reflected in these race instructions. Please note that you must abide by these instructions, or otherwise you may be disqualified from the race.
The number of registrants has been restricted compared to previous years.
Runners with any Covid-symptoms or who are self-isolating or quarantining MUST NOT RUN (you can defer your place to 2021 - just email the organiser on rob@trionium.com).
The Scout Hall will only be used for toilets (one out, one in). Registration and bag-drop will take place on Woodfield, which is the usual start/finish location. Please note that there is no shelter on Woodfield in case the weather is inclement.
There are no changing facilities at the race - come dressed ready to run!
The 2k fun run will start at 10.30am this year.
Runners in the 10k have been allocated to waves of 25 runners, alphabetically according to their surnames - see below. You must start in your allocated wave (and will not be allowed to start in another wave), unless you have a 2020 5k time in any race of less than 23 minutes or a 10k time in any race of less than 45 minutes, in which case you can request to start in 'Wave Zero' at 11am - email rob@trionium.com by 10 September - up to a maximum of 25 runners (first-come, first served).
Registration (picking up race numbers) will take place on Woodfield itself (at the race start).
All volunteers will use PPE. Hand sanitisers will be available around the start area.
Please arrive in good time to collect your race number. Bring your own safety pins - we will not provide them this year.
When interacting with volunteers (picking up race numbers), competitors will be obliged to wear a face covering.
Only approach the start area when your wave is called, about 5 minutes before your wave start time.
Sorry, no National Anthem this year!
All participants will be required to adhere to social distancing - including before the start, during the race, when overtaking and after the race.
Unless overtaking, when running please keep as far left as you can!
Strictly no spitting - obviously! Anyone spitting will be disqualified.
WATER WILL NOT BE PROVIDED AT THE START, MIDDLE OR END OF THE RACE.Those who feel that they need water at the mid-way point of the race should ask a companion to provide them with water (it is a 5-10-minute walk from the start line to the half way point). All runners should bring their own post-race drinks.
There will be a super-long finisher's funnel, so that finishers can continue to socially-distance.
Wooden medals (also usable as drinks coasters) will be provided for all finishers - please just pick one up from the finisher's table.
There will be a free raffle, as usual, but this time at the finish line, taking place at 12.30. (Your running number is your raffle ticket). Winner's prizes will also be given out at the finish line in a short ceremony at 12.30.
Please remain socially distanced or within your bubble throughout your time at the Ashtead 10k and 2k fun run.
Photos and results will be available on the race website after the run.
Let's have a safe and enjoyable run in 2020!
Voted one of Britain's top 10 trail races in 2013 by Runner's World
Named one of Britain's top 10k races by the Daily Telegraph (Feb 2010) and one of Britain's top 10k races by Runner's World in 2010.
Voted 4th best 10k in Britain (and one of the top 50 races in Britain) in 2009 (RW)
'Britain's 'greenest' race' (oh yeah?)
The Ashtead 10k and Fun run has now raised over £15,201 for charity over the years (including the 2020 race) - mainly our local charity Rianna's Fund - which often sends marshals to help at the race!
The Ashtead 10k is organised by the Ashtead Running Group. Ashtead Common is maintained by the Corporation of the City of London.
The course involves a route through the varied woodland habitats of the Common, including open areas of previously-burnt woodland and regrowth, coppiced areas, and the ancient oaks for which the common is famous. The route is undulating, with total ascent and descent of not more than around 250m. The route follows wide grassy footpaths, bridleways and tracks through the forest, and in its mid-section features views over farmland to Malden Rushett and beyond.
---
14th Ashtead 10k 'eco-race' and 2k fun run - 2019
11am, Sunday 15 September 2019 (2k Fun Run at 11.05).
Well done everyone for running in the heat today!
'Mob Match' special mention for the running club that registers the most runners - Winners - The 52 Club.
Results here (make sure to refresh your page!)
Steve Rencontre's photos of the Ashtead 10k 2019
Steve Rencontre's Photo Story of the Ashtead 10k 2019
Ashtead 10k & 2k Fun Run 2019 photos on Flickr
Quote of the day 2019: "Thank you for such a great race yesterday, it felt like a fantastic community event. My 5 year old son did it for the first time and, although he got distracted wanting to make dens in the woods, he thought it was great fun too!" Sarah Sanders
---
13th Ashtead 10k 'eco-race' and 2k fun run - 2018
11am, Sunday 16 September 2018 (2k Fun Run at 11.05).
Great racing today - well done everyone who took part.
In warm to very-warm early autumn sunshine, 166 plucky souls set off for the 13th Ashtead 10k, undaunted by the evils portents of the edition number of the race - and their lack of superstitiousness was fully rewarded with some fast times. For the ladies, Saskia Bausch of MTG Mannheim (20)finished in thrid place in 45:38, Clair Whittaker (44) was second in 45:07, while Chloe Bean of London Heathside (23) was first in 43:56. Five gentlemen went under 40 minutes, indicating that it was a fast field. In third place was Steve Lathan (33) in 37:38, while Andrew Thomas (20) was second in 37:07. In first place, with the second-quickest time ever recorded at the Ashtead 10k, running for Fulham Running Club, was Nicholas Thomas (26). Nicholas is seen in the black and white running top on the left side of the photo below. Well dones all round!
Thanks also to our craft donors - who brought fig jam and freshly-baked bread for our raffle!
Ashtead 10k and 2k Fun Run 2018 Photos on Flickr - Thanks to Duncan Parsons!
Ashtead 10k 2018 results - they are there, make sure to refresh your browser window (you may also need to dump your chache)
Please rate the race and leave comments on the Ashtead 10k 2018 (Runner's World)
See all runner ratings and comments on the Ashtead 10k (Runner's World)
Quote of the day 2018:
"Just wanted to say thank you for a really enjoyable and well organised run today. Thanks to all the marshals, volunteers, cake-bakers, carrot issuers and more." Ellie Beatty
"Excellent. A good fun, well run event. From the moment Rob, the organiser, climbed on his step wearing his union flag shorts it was clear the run was going to be a memorable one. After singing the national anthem we set off around Ashtead Common. It was not an easy race but great countryside and a friendly crowd made it very enjoyable." Chris Reeh
"Very enjoyable race on a pretty common just outside London - enough hills to slow you down but without making it a struggle. Great atmosphere - the 2K fun run is a brilliant touch and makes for loads of enthusiastic supporters. £1 for a cup of tea and a delicious slice of cake in the scout hut afterwards!" Ed Catmur
"Excellent local 10k over a nice scenic course. A few challenging hills but also some fast undulating well surfaced paths. Great organisation and friendly. A shining example of a good locally organised race." Jane Bloore
Click here for the Ashtead 2k Fun Run
---
12th Ashtead 10k 'eco-race' and 2k fun run - 2017
11am, Sunday 17 September 2017 (2k Fun Run at 11.05).
Ashtead 10k and 2k Fun Run 2017 photos on Flickr - for free download and use! (Photos by David Moore, Alistaor Bloor and Robert McCaffrey)
Ashtead 10k 2017 results now available
---
11th Ashtead 10k 'eco-race' and 2k fun run - 2016
With the kind permission of the Ashtead Common Rangers and the Corporation of the City of London
Organised to benefit Rianna's Fund - our local charity
Exploring Ashtead Common
11am, Sunday 18 September 2016 (2k Fun Run at 11.05).
Well done everyone - lovely running today and plenty of PBs!
Ashtead 10k 2016 Results (they are there - make sure to refresh your browser window!) (Fun Run positions/results on the Fun Run page).
View runner comments on the Ashtead 10k 2016
Add your rating and comment (Runner's World)
Ashtead 10k 2016 Photos (main credit - Elizabeth McCaffrey)
Steve Rencontre's great photos of the Ashtead 10k 2016
Steve Rencontre's Ashtead 10k 2016 Photo Story
Discussion thread on Ashtead 10k and Ashtead 2k Fun Run 2016
---
10th Ashtead 10k 'eco-race' and 2k fun run - 2015
Well done to all our runners today - great running from everyone!
Rate the race and leave comments - we strive for 100% satisfaction!
See runner comments on the Ashtead 10k 2015
Ashtead 10k and 2k fun run photos 2015 (thanks to our various photographers!)
Steve Rencontre's great Ashtead 10k and 2k Fun Run photos 2015
Steve Rencontre's Ashtead 10k photo-story 2015
Ashtead 10k and Fun Run 2015 discussion
---
9th Ashtead 10k 'eco-race' and 2k fun run - 2014
Organised to benefit Rianna's Fund - our local charity
Exploring Ashtead Common
11am, Sunday 7 September 2014
Ashtead 10k 2014 Results (make sure to refresh your browser window to see this year's results)
Ashtead 10k & Fun Run 2014 video (YouTube)
Ashtead 10k & Fun Run 2014 photos Photo credit: Catherine Waring (thanks!)
Steve Rencontre's excellent photos ...and Steve's 'An Ashtead Tale 2014'!
Well done to all runners and thanks to the excellent marshals!
See runner comments and ratings
Male and female race winners won freshly baked bread
The Ashtead 10k and Fun Run has once again successfully taken place in the sleepy little village of Ashtead, Surrey. The race is annually voted one of Britain's top trail races, and boasts of being 'Britain's Greenest Race.'189 runners took part in the 10k race, and 90 kids and parents took part in the 2k Fun Run. In the 10k race, Sara Allen of Run to Live RC was third lady, in 47:42, while Vicki Webb of Thames Hare & Hounds was second in 45:10. Romping home as first lady was Lauren Johnson in a cracking time of 44:26. Among the men, late entry George Jameswas thrid in 38:15 and Robert Hegarty was second in 37:49. Meanwhile, Steve Winder of Epsom & Ewell Harriers successfully defended his title from the previous year, finishing in 36:30 (3 seconds slower than in 2013 - tsk!) and winning the race for the fourth time. The race supports and is supported by Rianna's Fund, a local charity that supports children's homes in East Africa and India and which also supplied many of the marshals for the race.
Below: Winner Steve Winder at 7km, 'putting the hammer down.' - Photo Steve Rencontre.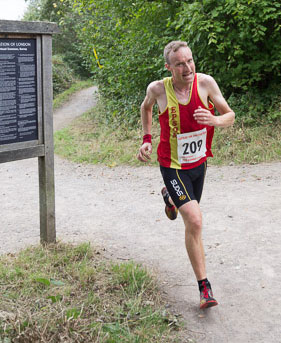 ---
8th Ashtead 10k 'eco-race' and 2k fun run 2013
"Beautiful scenery, great course, friendly faces, perfect organization: A beautiful course and perfect conditions. Wild terrain but still fast. Clear directions and great marshaling. A life-enhancing race." David Evans 2013
Well done everyone who took part in today's race: Great turnout and good effort all round!
NEW COURSE RECORD: KATHERINE WILSON, 26.2 RRC: 41:14 - new record by 27 seconds!
Well done to Steve Winder, winner of today's race in 36:27!
HUGE thanks to all our marshals, time-keepers and Brian the lucky Sweep - and everyone else who helped.
Results - make sure to refresh your browser window to see this year's results - they are there!
Fun run results are on the fun run page.
Short video of Ashtead 10k and 2k fun run 2013 start and first three finishers.
See runner comments and ratings 2013
Ashtead 10k discussion 2013 (RW)
---
7th Ashtead 10k 'eco-race' and 2k fun run
11am, Sunday 23 September 2012 (fun run 11.05am)
Well done to everyone who turned out today - we were lucky with the weather - it chucked it down soon after the race finished!
Ashtead 10k results 2012 (Fun Run results)
Ashtead 10k and 2k Fun Run 2012 photos
Ashtead 10k and 2k Fun Run 2012 video
See runner ratings and comments 2012
The race was able to donate £800 to charity in 2012 - raising £5800 to date.
Featuring first prizes for men and ladies' winners of a unique bespoke artwork from Lisa Collins
Some runner comments in 2012
Scenic run round the Common. Tea and bacon butties as part of the fund raising.
Love this race.

Love this race. Scenic, off road, superb organisation, happy friendly marshals, easy quick number pick up. Thank you to Dr Rob and the Ashtead Running Group
Very enjoyable ...
Great race - nice off road route
Smiling on a Soggy Sunday. Great organisation and fab course. Best marshalls in the business and a great trail 10km. Wonderful camaraderie with the other runners, supporters and marshalls. One of my fav races of the year and even with the cold and rain put a smile on my face.
A very enjoyable run
A great course, slick organisation and maybe the most encouraging marshals I have ever experienced! Thank you to all of you
Well organised, plenty of parking, great run, great PB potential - was expecting a lot of hills from the reviews but could only find one! Excellent race, very friendly defo do again
Terrible weather, fab organisation, fab marshals and really lovely people taking part too.
Friendly atmosphere, race doesn't get any easier!

This is a terrific local run with a great community feel. Top marks in particular for the team on the bacon baps and all the marshalls..
One of my favourite 10k races - a warm welcome in the countryside
The marshalls are the friendliest I have experienced. They all shout encouragement. Beautiful run away from the roads.
What rain? The usual trionium experience, without the brutality of some of Rob's events.. beautiful offroad course, great atmosphere and excellent marshals and officials. Well done all
Made me like running in the rain
Got a PB by over a minute. Friendly marshalls, relaxed atmosphere and a 5min eco friendly jog to the start. What's not to like?
---
6th Ashtead 10k 2011
The 2011 race raised £1550 for local charities, and has now raised over £5000 in total!
Thanks to everyone who ran in 2011 - turned out nice again...
THANKS to all the marshals!
Photos (10k and 2k fun run) 201 (credit: George!)
Ashtead 10k and 2k fun run video 2011
See runner comments and ratings 2011
Add your comment/rating (Runner's World) 2011
UK Athletics licence 2011-0081
A random selection of runner comments on the 2011 race (thanks to RW):
Lovely scenery running through Ashtead Common. Everyone very friendly and marshals were very supportive. A little challenging with a few slopes and uneven ground, but so much nicer than running on tarmac!
What a fantastic friendly atmosphere - never seen anything like it. Loved the way everyone cheered each other on when passing by other runners on the return leg. Very well organised. Pretty course - those undulating hills certainly stop any PB's! [ organiser's note: lots of people get PBs on this course - and not just when being chased by hornets]
Amidst the fine surroundings of the glorious hamlet of Ashtead, with excellent organisation, a friendly crowd and not a hornet in sight - what more could you want?
Engaged the whole family including non-running wife A must! Great atmosphere. Pleasing see a younger starting age of 4 upwards - thus meant that whole families could join in and the personalised t shirts were a great touch. Given the uneven terrain I think a PB would be challenging but this us one of the best all round family/competitive races that I have run and can't wait till next year.
Great day out for the whole family. I'll go out of my way to do this one again. Easy to get to. HQ just a few hundred yards from the course. Friendly Marshals. Scenic course with very clear markers. Thats all we really ever want, but this race had so much more. From the singing of the National Anthem at the start, to the excellent T shirts and Slate Coasters. Not to mention the Jelly Babies, Jaffa Cakes, Apples and Carrots at the finish. Oh and the organic giant marrows as prizes. Plus... the free prize draw using race numbers.
Very friendly well organised event and easy to get too. With the race start and HQ within sight of Ashtead railway station this must be one of the easiest events to get too, especially with the later than usual start of 11:00am. This is a very well run local race with excellent marshalling from Doctor Rob and his team. The course is challenging enough with climbs that you could not call it a PB course. Well done to all and great finishing prizes of a running top and an unusual slate drinks coaster - nice touch.
Fab race perfect for faster runners and run/walkers. Marshals amazing, lovely friendly atmosphere and support from faster runners around the course. Will be back next year.
---
5th Ashtead 10k
11am, Sunday 19 September 2010
Including 2km fun-run at 11.05am
Thanks to everyone who ran in the race, and to all the marshals, helpers and time-keepers.
Sorry if you got stung by hornets at 7km.
RW discussion on this race 2010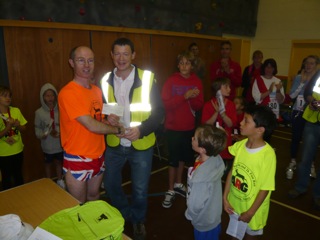 Race director Rob McCaffrey (left) hands over a cheque for £1000 from Ashtead Running Group to
Rianna's Fund
's Steve Davenport, at the Ashtead 10k and 2k Fun Run 2010.
---

Jo Sherring, helping Rianna's Fund, took some spare t-shirts and pens with her to India on a recent trip: "Attached are some pictures of the children saying 'thank you.' We explained to them all about the Trionium runs you arrange and how amazing you have been in your support for Rianna's Fund. They loved the pictures of the Knacker Cracker with everyone in costume, there were lots of giggles at the idea of adults dressing up in costumes and running around."

The first picture is of some of the street children we support in a home in Mumbai. The second picture shows some of the children who are part of the Sports and Education Project in the slums of Chennai, we left lots of your shirts with them. This is exam time in India so the morning football training for these children was not being held, instead we arranged to meet some of the boys at the hall used for their After School Club and left the other shirts to be distributed when football training starts again next week. They were thrilled to get the shirts, we watched one little boy spend about 20 minutes trying to fold his T Shirt perfectly - he was just so proud of it. We still have some more shirts to take out on the next trip to India."

In 2010, 16% of respondents arrived on foot, travelling an average of 0.86 miles. 5% of respondents came on bike, travelling 5.8 miles on average. 12% of respondents came by train, travelling an average of 6.7 miles. Only one person came by bus, travelling 12 miles. 63% of respondents came by car, travelling 12 miles on average. The shortest distance to the race start was 20 metres, and the longest was 150 miles (in a car shared by two people). The average number of people per car was 2.7. These numbers are based on a survey at race registration and are approximate.
---
What's so 'eco' about this race?
The race takes place on Ashtead Common, a Site of Special Scientific Interest and a National Nature Reserve (and home to two scheduled ancient monuments). The organisers have looked at all aspects of the organisation of the race and have sought to reduce the environmental impact to a minimum. As part of the agreement with Ashtead Common, no trace of the race is allowed to remain at the end of the race, and no permanent markings are allowed on the course. We aim to leave the course cleaner than we found it. (Post race note - the course was left in a pristine condition).
Running numbers are on stiff-paper, printed with vegetable-based inks. If it rains, please run faster before the numbers disintegrate. (Post race note - the paper numbers were not a complete success, and we will look for 'green' alternatives for next year).
The race t-shirts this year are 'Earth-friendly,' made of cotton, grown without use of pesticides in India, processed in factories that are inspected to eliminate child labour. They are transported to the UK by ship, and printed with low-VOC vegetable-based inks.
The medals this year are made of wood, and will double as drinks coasters. They are made in the UK. The ribbons are cotton.
Drinks and snacks are all UK grown and sourced, with minimised 'food miles.'
Cups are made of paper and are biodegradable (as opposed to another type of paper cup which was found to be 'non-biodegradable'!)
Prizes for the winners are locally-produced award-winning wines and sparkling wines. First lady won a bunch of home-grown flowers (gladioli, lavender and dahlias) and first man home won a home-grown and totally organic marrow (+dirt).
All 'rubbish' from the race will be carefully separated - as much as possible will be recycled. (Post-race note - the only waste that was not recyled was a couple of bags of jelly babies that were opened and not eaten - total mass about 800g). Food waste (carrot tops and apple cores) was separated and composted.
Critically, all runners and spectators are encouraged to travel to the race via foot/jogging/running/biking/public transport/car sharing.
Question: Should we bother trying to be an 'eco-race'? Well, it's been an interesting process to prod our normal suppliers into thinking about more 'eco' options. For sure, the 'eco' options are not the cheap options (generally turning out to be around 20% more expensive than the 'non-eco' option). Making the Ashtead 10k an 'eco-race' won't save the world on its own, but in general, we should all move towards using fewer resources in general.
The race might not be perfect, but it's a start!
---
4th Ashtead 10k 2009
Preliminary results 2009 (make sure you refresh your browser window!)
Runner comments on 2009 race (Runner's World)
Add your rating (Runner's World)
RW discussion thread on the Ashtead 10k 2009
Once again in bright sunshine- that's four years in a row - the 4th Ashtead 10k took place at 11am on Sunday 20 September. 196 runners set off onto the new out-and-back course for the race, keeping to wide pathways and bridleways around Ashtead Common. The first kilometer is rough underfoot and uphill (many runners commented that they had no idea that Ashtead Common was so hilly), while the rest of the course is properly described as 'undulating.'
First man home was Dorking and Mole Valley AC's Nick Hodges (33), in a startlingly fast time of 34:42, taking two and a half minutes off the record for the previous course. The record for the previous course (37:14) was held by this year's second placer, Steve Winder (38) of Epsom and Ewell Harriers, who finished this year in 36:06. Third man home was Gavin Harkus (40) of Elmbridge Road Runners in 36:22.
First lady home was Samantha Wood (28) in 46:03, running in memory of her son George who sadly passed away during labour less than 4 months ago. Samantha is raising money for SANDS, to provide money for more training of staff in hospitals. Second lady home was Cathy Davis (44) of Stragglers in 46:18, while Melanie Eyre (31) was third lady home in 47:17.
Around 70 children enjoyed the 2km Fun Run, with Conor McCormack (12) first home in 8:01.
The race raised around £1000 for charity, including Rianna's Fund.
UK Athletics Permit No. 20090316 (2009)
---
3rd Ashtead 10k - 2008
In glorious sunshine, 200 runners completed the 3rd Ashtead 10k on Sunday 14 September 2008, on a largely dry course around Ashtead Common. The common is a National Nature Reserve and an SSSI, and is managed by the Corporation of the City of London. First man home in 39:31 was David Moore (43) of Thames Hare and Hounds, followed a mere one second later by local runner Steve Winder (37) of Epsom and Ewell Harriers. Mike Webb (40) from Belgrave Harriers was a close third in 39:53. First lady home was Sarag Dear (25) in 48:14, in 33rd position.
The day also included a 2km Fun Run, which was enjoyed by around 60 children and by many parents (some of whom were running for the first time in several decades).
The race raised over £1000 for local charities, including Rianna's Fund. Sandra Jehoel managed to raise £361 for Greyhound Gap, a charity that rehomes retired greyhounds.
Thanks to everyone who took part, and to all the marshals and helpers, without whom the race could not have taken place.
Early comments: "Could you also please my thanks on to all your helpers - the registration, numbering, start, marshaling, marking, drinks, finish, shirts, medals and snacks were all very professional. Well done and see you next year!" (Neil)
"Just a note to say how much the whole family enjoyed the event today. Nice challenging course for the grown ups, and lots of fun for the little ones. They loved singing the national anthem ("just like at the Olympics"), and felt very proud of their prizes and T-shirts. The weather helped, but it was a great morning out in the fresh air. We'll certainly be back next year. Well done, and many thanks." (Vicki and Mike)
---
2nd Ashtead 10k - 2007
What the runners said - 2007
I enjoyed this race even more than last year. The course was better marked and the Common is always a great place to run.
Enjoyable well-oragnised race, but I found the hills pretty tough!
Excellent race, loved the carrots too.
Good 10 k race with a good fun run too: the kids loved it.
Difficult surface - a good cross country. Glad it was dry
A good challenging run. Very friendly atmosphere. A welcome change from road running and a bit more of a challenge running up (and down) woodland paths and grass. Weather and ground conditions were very favourable - might be a bit trickier sliding down a muddy bank. Well marked/marshalled and a good post race atmosphere. Only gripe was the km marking - we were warned the distances were approximate but the marking on the way our seemed to based on a completely different scale from the way back with the result that km 5 to 6 seemed more like 2 - or maybe that was just my legs playing tricks with my mind. Nonetheless a very enjoyable outing.
Excellent local race, well organised, great route, will be back next year. Great local race with friendly organisation. Nice hilly route over Ashtead Common. Equally good if you want to challenge yourself or just jog round. Many thanks to Robert for the organisation and looking forward to 2008.
Really well organised friendly 10k! Big thanks to the organisers and marshalls for a great day. Good to see much needed km markers added this year. Will be back again next sept for more of the same.
Well organised and good atmosphere well done all
An enjoyable race but my first 'cross country' 10k which made a PB out of the question. Having to pass through gates and meeting faster runners coming the other way slows you down a bit, and I am glad it was dry as the slopes would have been hard.
Lovely offroad 10k. kids 2k race makes it a nice family event. ideal conditions, challenging scenic course, well organised and great atmosphere. hard to ask for more really. My four year old did the kids race and wouldnt stop talking about it all day long or take her medal off! Will certainly be back again next year. Thanks to the organiser and all the marshalls and helpers
Definitely one to add the yearly race diary
Very enjoyable day, fun to get out of London, run off road and take on a few very small, manageable hills. Thanks to all the organisers.
Tough, friendly, well-organised. Was hard work but nice to be traffic-free. Excellent access via public transport - Ashtead station very close. Got lucozade half way round - and lots at the end (although the carrots didn't go down as well as the jelly babies!). Perfect weather conditions - would have been very hard if wet! The prizegiving session was amusing and there were lots of cakes. Marshalls and the few supporters were really encouraging. Would recommend this.
Enjoyable, but I found it tough. I admit I probably wasn't as fit as I was earlier in the year but even so I reckon this was the toughest 10K I have ever done. However I enjoyed not running on roads and I found that there was comraderie amongst the runners which you don't always experience with road races, this is despite the fact that for periods I was on my own! Will do again next year.
Great atmosphere - great laugh. Found this rather challenging, 3rd 10 k but previous 2 on flat tarmac. However great fun, brilliant amosphere, everyone really encouraging on out and back course. Organisation straightforward and spot on. Marshalls were all lovely,Don't even mind about the purple ankle from rabbit hole encounter at 4km - still finished in a good time for me(1:03 ish )
Loved it - so much nicer than running on roads. And the jelly babies at the half-way drinks were a lovely touch!
A great event. I had such fun at this event! Very well organised, incredibly friendly and an enjoyable course (less hilly that I expected it to be).
Lovely course, great organisation! I thought the course was not that difficult and yet I found it tough. Possibly due to a lack of recent/regular training (no running at all over my 5-weeks holidays!!! Except playing tennis and chasing the children). Dr Rob's organisation was faultless, course well marked and encouraging marshalls all the way. I like Dr Rob's races, and appreciate his efforts and goodies (nice flashy T-shirt, good mug and medal, plus sweets and sports drink....). The only let down was myself, it simply does not get easier! I guess I'm out of practice. Pleasant course, highly recommended!
---
1st Ashtead 10k and Fun Run 2006
In glorious sunshine, 140 runners took part in the first-ever Ashtead 10k race on Sunday 24 September, discovering the hidden corners and unexpected hills of Ashtead Common - with the kind permission of the Corporation of the City of London and English Nature. The race was organised by Ashtead Running Group, and was aided by a squad of excellent volunteer marshals.
Ashtead resident Steve Winder led the field home in 37:14 (a good time for a fast course, and even more spectacular given the rough ground and complicated course), while Marcus Sherwood was second in 41:23 and Tim Tapper was third in 41:32. Phyllis Flynn was the first lady home, in a very impressive fourth place overall. The last runner home made an excellent effort to dip past the line before 100 minutes was up, finishing in 99:47 (1 hour 39 minutes 47 seconds).
The children's fun run attracted around 30 youngsters (and some parents who may not have done any cross-country for 20 years or more). 11-year old Jessica Filby was first home, and shows much promise for the future.
Thanks to everyone for their help in making it such a fun day.
In all, the race raised around £1485, split between the British Heart Foundation, Downs Syndrome Association and Rianna's Fund, a local charity which supports an orpahange in Kenya (as well as charities such as the St John Ambulance, Ashtead Common, and Ashtead Scouts). So THANKS!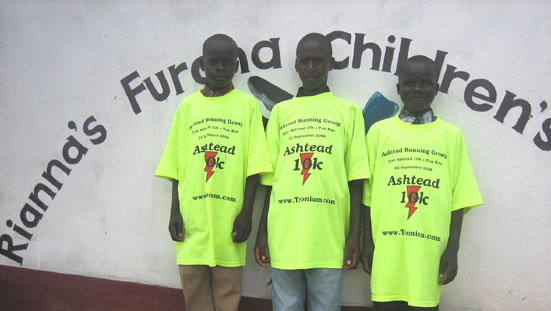 Three young chaps at Rianna's Furaha Children's Orphanage in Kenya, wearing their Ashtead 10k t-shirts with pride!
(Photo by Steve Davenport)
Results (Download as Excel file)
Please post your comments on/vote for the race here
If you enjoyed this race, please try the Knacker Cracker!
---
What the runners said in 2006 - a selection of kind comments...
A superb woodland course - more challenging than I expected. Despite making one wrong turn and probably running an extra half K this was a great race. Well planned, scenic and really quite challenging.

Definitely worth making a note in your diary. I felt it suited all abilities. Only complaint - they'd run our of jelly babies by the time I'd huffed and puffed my way to the 5K mark! Very well done to Rob & the rest of the team!

Good organisation, great route, no tarmac to pound & friendly atmosphere. Although Ashtead common is criss-crossed with paths the red & white marker tape and marshalling made it idiot proof to get it right. Great to have a race on the same sort of trails as I train on. Kept my eyes open, brain engaged and body balanced to enjoy a great race. I look forward to 2007.

Great course and good fun.

Very very hard for a first 10k: If I can do this one, then I can do any 10k!

My first race, great introduction, definitely spurred me on to improve my time.

Well organised run in nice scenary on undulating paths

Thanks for all your hard work and excellent organisation. What great marshalls! Many thanks for the T-shirt nighties too!

Very well organised and great atmosphere. Would run it again for sure! Well done.

Great race - well done!! Should be a regular fixture!

Very friendly well-organised race. Hillier than I expected although my time was slower than my first race which was Cousldon Near as Dammit 10K I enjoyed it greatly and overtook people - bonus!

Great race - very well organised and very friendly. Kids loved the fun run too!

Great day and very well organised. Good work with the tea and cakes afterwards. Unexpected hilliness!

Was expecting more hills!! As usual very sorted organisation. Thought it was going to hillier, was hoping to get about 1 hr, managed 1.05, will be back next year, well done to everybody who helped to make the day a success.

Lovely green place to do first 10k if a bit slippy at times. Very nice encouraging atmosphere!

The organisers were friendly, it was easy to find, but it was a much harder run than I expected.

Nice race which I really enjoyed. A little wobbly underfoot in places with various obstacles that could hinder (logs to leap and gates to slow down for!) but really good fun!
Brilliantly organised and marshalled race with a lovely scenic route. Brilliantly organised race with a very friendly atmosphere. The lovely scenic route with its long gentle undulations and an out and back course meant passing all the other runners which added to the atmosphere. A special mention for the marshals, they were all brilliant - friendly and encouraging, a big thank you to all of them.

Thoroughly enjoyable . Well Done! Not a fast course, but none of the hills are very long and the woods are lovely. Hope this will be the first of many for this race.
Really enjoyed it, big thanks to all involved and looking forward to next year.

Being my firdst ever race, the support was very encouraging a big thank you to all.

Wish I had been sensible on Saturday night!!! Despite stupid self inflicted hangover and the heat I really enjoyed it and am only marginally aching....

Excellent race and organisation.

Well organised, very enjoyable run in the woods with lots of little hills and humps.

Great organisation, location and easy to get to. Friendly. It's a there and back course, so can be good for the ego to pass the people behind you!

Great, hilly but fun local race. This was a great run very well organised by Rob and the marshalls. A few wrong turnings (!) but navigation is part of the challenge!
I didn't know Ashtead common had that many hills! Lovely, local, friendly, sunny, splendid race. Please run it next year :-) A particular 'thank you' to the Marshalls for their support and cheering.
---
Race organised by Ashtead Running Group (ARG)
---