New Year

Bare bones

Box Hill

Nipper Knacker

Knicker Knacker

Knacker Cracker

11am onwards, 1 January 2023

#knackercracker

'Britain's toughest 10k'!

Kids' fun run, the Nipper Knacker; Ladies most welcome for the ladies' race - the Knicker Knacker, while men will feel a punishment in their gonads, during the Knacker Cracker!
The 20th Knacker Cracker 2023
11am, 1 January 2023
Our photos of the Knacker Cracker 2023 (Photo credits to Rich Giddings and Dave West) - for free use
Short video of the Knacker Cracker 2023 - everyone is on it!
Fantastic video from Simon du Plessis of his Knacker Cracker 2023!
Wow - what a race!
Rob, race director, had laid out the course on Saturday afternoon in pouring rain, including the route over the footbridge, when the river level was about 3 feet lower than the lowest step. On Sunday morning, the day of the race, the direct route to the race start was under water, but another route (plan B) was found to the start. However, when the massed ranks arrived to start the race, it turns out that our advance scouts (inc. Jez, thanks), had found out that the river level at the footbridge had risen about five feet during the night (with all the water from Saturday's rain making its way downstream). The water level was still rising. The decision was made on the spot to move the start to the bottom of the Burford Slope, on the old Military road (Plan C!). Once everyone was assembled, we sent off the good-natured mob of runners and fancy dressers (and running fancy-dressers!), up the military road, after having explained that this meant that everyone would have to descend the steps after visiting the Lookout, and then climb back up them. Alas, the two lead men followed the original signs, and added on another couple of kilometers (down the slope,back along the road, over the flooded bridge and back up the steps, finally, (for which they got a heart-felt round of applause at the end). Everyone else was able to correctly complete the course (sorry guys!).
More later....
The route is(/was!) exactly 10.000km, and includes ascent of 473m and descent of 335m.
View the new Knacker Cracker route
Sorry, earphones/headphones not allowed on the course - don't run in a bubble!
If Box Hill Hill is not available for any reason, we will be using the Knacker Cracker 'B' Course, around Denbies Vineyard. Still a tough course!
The Knacker Cracker was voted Britain's best trail race in 2012 and 2013
by runners voting at Runner's World
The Knacker Cracker was voted Britain's best 10k in 2008, 2009 and 2010
by runners voting at Runner's World

Knacker Cracker Panorama at Box Hill Lookout (Solomon's Memorial), by Brian Barton, on a sunny day!
(normally...) A run for hearty man fellows and lady fellows, mostly on rough tracks, and including superb views over the North Downs, the Mole Gap, Denbies Vineyard, and Dorking.
Wishful thinking weather forecast: warm and sunny. (actual weather forecast)
Historic Box Hill by Turner and by George Lambert (both paintings at the Tate)
(If you do not see a menu of options on the left hand side of this page, click here)
New-new Course records (2022 onwards): Male: Steve Winder (50, Epsom & Ewell Harriers) 49:15 (2022); Female: Katie Lysons (29, Clapham Chasers) 56:00 (2022)
New (2015-onwards) Course records: Male: Rhys Gillard (24, Southend AC/Leigh-on-Sea Striders) 50:15 (2019); Female: Carla Molinaro (34, Clapham Chasers) 55:50 (2019)
(Old-New) Course records: Male: Sylvain Garde 45:51 (2011); Female: Carla Molinaro 52:44 (2011)
(Old-old) Course records: Male: Darren Treadaway 43:43 (2009); Female: Sarah Rollins 48:26 (2009)
---
The 19th Knacker Cracker 2022
Association of Running Clubs permit ARC22/023 (2022)
11am onwards, 1 January 2022
View the Knacker Cracker 2022 VIDEO on YouTube
See photos of the Knacker Cracker 2022 on Flickr (thanks to Gaz Davies and to Dan Burke for the photos!)
See Steve Rencontre's great photos of the Knacker Cracker 2022
Steve Renconctre's Knacker Cracker photo-story 2022
On the warmest-ever New Year's Day, at around 16°C, 195 runners gathered at the race HQ at Denbies Wine Estate near Dorking for the 19th running of the New Year's Day Knacker Cracker, following the previous year's virtual version. Spirits were high as the assorted runners and fancy dressers made their way to the Burford Meadow at the foot of Box Hill, an easy 8-minute jog from the HQ, for the race start. The route - new for 2022 - has been measured at exactly 10,000m - and is exceptionally hard, with plenty of mud, hundreds of steps, tree roots, rutted and slippery tracks and plenty of cow shit all over the place.
Despite the warmth, there were plenty of great runs, with 24 runners dipping under the hour, including all three fastest ladies. Third for the ladies was Lindsay Browning (41, Newport District) in 60:00 (does that count as under the hour?), second was Kate Stillwell of Phoenix OCT (30) in 57:58, but first home, setting a new course record on this new course, was Katie Lysons (29) of Clapham Chasers, in a super-swift 56 minutes dead - dressed as a bee!
For the gents, local runner Daniel Evans of Dorking and Mole Valley AC (19) finished in a tidy 50:47 (looking very relaxed as he crossed the finish line), with Ross MacDonald (33) of Ranelagh Harriers second in 50:02. However, winning the event once again was, clad head-to-toe in a red figure-hugging onsie, was Steve Winder (50!) of Epsom and Ewell Harriers, in a record-setting 49:15. Well done Steve!
The fancy-dressers really excelled themselves this year, making it nearly impossible to judge the prizes. Winners included the 'NHS Medics', a pair of hot hound-dogs and a lady dressed as a bone and being followed by a pack of inflatable hounds. Many other notable costumes were on display, including a pair of airmen, a bunch of grapes, several pieces of food (all looking delicious), several super-heroes, many men dressed as women, centurions, lady-warrior-queens, elves, pirates, 'Where's Wallys,' bacon and eggs, an ET, a man being eaten by a shark, Wally Woman, a skeleton, a tiger, a dinosaur, Star Trek (New Generation), and participants in Squid Game. They all deserved a prize!
MASSIVE THANKS TO ALL THE MARVELLOUS MARSHALS!
Quote of the Day: 'It was a truly awesome event. Please give yourself and your team and the amazing marshals a huge pat on the back. I loved the event and the camaraderie and the atmosphere was just brilliant. I've never seen anything else like it elsewhere. You should be so proud to recreate this every year! Looking forward to next years already. Can you make it warm again?' Christine Ford
---
The 18th, 'Virtual,' Knacker Cracker 2021
The National Trust was not able to host the event around Box Hill on 1 January 2021, so the Knacker Cracker took place nearby, at Denbies Wine Estate, on a challenging 2-lap course. In response to shifting government Covid regulations, the race first took place as a virtual race for everyone (30 people took part on 1 January 2021), then during lockdown only for those who were 'local' and then for its final month, to the end of April, for everyone who could make it.
Steve Winder for the gentlemen set down an early marker for others to target, finishing in 52:28. Adrian Mercer subsequently bettered Steve's time completing the course in 52:22, but Jacob Kench then put down an even quicker time, of 52:10. However, entirely within the rules, Steve Winder came back for another go, on a snowy day in April (!), and kicked the others out of the park with a brilliant time of 50:03, setting down a course record that will be hard to beat.
Gemma Hall set the early pace for the ladies' with a time of 1:03:20, followed by Hannah Morris in 1:04:06, but local girl Claire Whittaker finally swooped in to set the fastest time (and set the ladies' course record) of an impressive 1:02:40.
On the first day of the virtual Knacker Cracker, 1 January 2021, fancy dress was in evidence, with a couple of Wallys, Chritmas jumpers, a bear and a lady dressed as a rocket completing the course. Many ran sporting Knacker Cracker shirts from previous years.
Steve Rencontre took some nice photos of the occasion - here they are!
Steve Rencontre also wrote-up a nice Photo-Story on the first day of the Virtual Knacker Cracker 2021
Quote of the event #1: "My wife Laura, our daughter Phoebe and I ran the virtual KC yesterday. Not the same as usual but still a great way to start what we hope will be a much better year. Thank you for arranging these events, you and the Trionium team do something hugely positive, especially in these difficult times…" Mark Evans
Quote of the event #2: "Just a rather late email to thank you for allowing we Knacker Cracker aficionados (my daughter and I) a chance to put last year away...and to begin this new one in the best possible way....in our case dressing up as a rocket and a lion and running around a vineyard. I can't imagine a better way to begin a year. And for the event to continue virtually, in a covid-secure way, was triumphant. So...once again....thank you and wishing you a sensationally happy 2021." Ric and Bethany Adams
All proceeds after the race expenses were donated to charity: Mind and Rianna's Fund.
Below: Russell Packford in blue (his 8th Knacker Cracker) and John Wilson in red (his 9th) - photographed together virtually after running the race, virtually!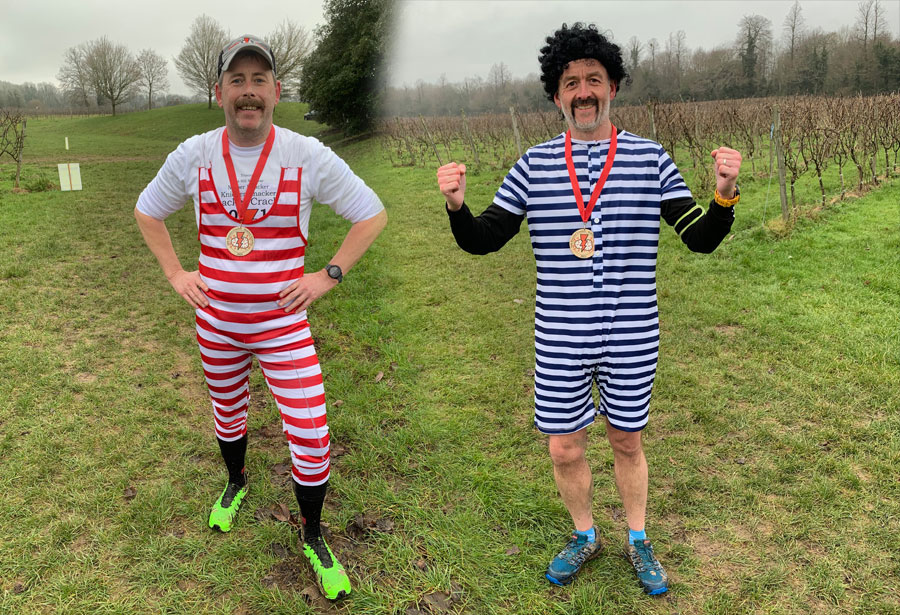 ---
Have a go at the Virtual Knacker Cracker course
The Virtual Knacker Cracker Course still exists, and you can come and have a go - there are even medals for finishers
Entrants will have the opportunity to record their own time over the course at Denbies using a phone- or GPS-watch based app (MapRunF). The race route on this two-lap course will be 12.6km and it will not be marked on the ground - participants will need to navigate the course for themselves. A map of the course is here. There is plenty of parking at Denbies.
You attempt the course entirely at your own risk. No officials, marshals or medical coverage will be present.
Ensure that you have the latest version of MapRunF installed on your phone and find this event by selecting UK > Mole Valley > Trionium > VirtualKnackerCracker. It is advisable to do this before you leave home to ensure that you have a data signal to download the course.
When ready, go to the start and ONLY THEN press 'Go To Start'. If the app doesn't immediately start timing you, just move forward 10m or so and the app should detect you and start you off.
The course is two laps - you must navigate the course yourself - there are no signs. The course is essentially the park run course, with a dog-leg up the rough track and up the tarmac road to the first gate - and back again onto the park run course.
The app will detect when you have finished the first lap.
When you have finished the second lap, when you are nearly back at the car park, turn sharp right after running along the row of vines, and run about 80m along the end of the vines to the finish by a bushy tree (see the map). Medals are in a waterproof box covered by branches under a tree on a mound, next to the entry to the Surrey Hills Brewery at the back of the winery building, only about 40m from the finish line (see photo below). Replace the top of the box and the branches after you have taken your medal, and sanitise your hands.
Looking for the medals?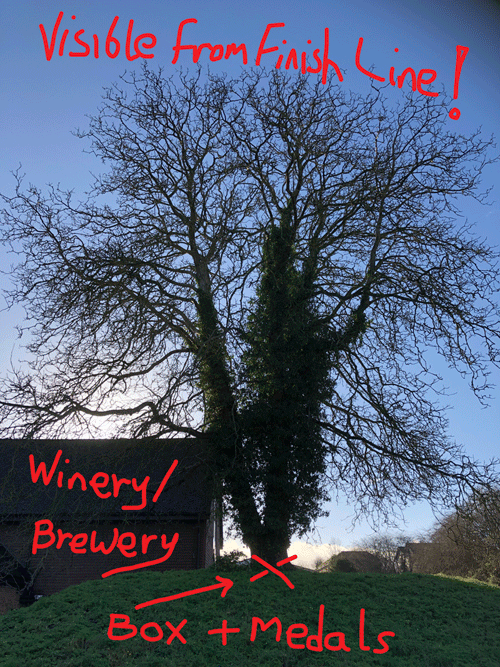 More detailed guidance on how to use the app is below and can also be found on the MapRunners website including details of how you can run using MapRunG if you have a Garmin watch.
The MapRunF app is increasingly being used for orienteering courses - if you are interested, please see the Mole Valley Orienteering Club website.
Have a great run - and good luck!
Regards,
Rob
Robert McCaffrey
Knacker Cracker organiser
Details on using MapRunF (thanks to Justin Farhall, MVOC)
For the timing of the Virtual Knacker Cracker, we will be using an app called MapRunF which can be downloaded free from the Apple App Store or on Android via Google Play. You do not need the latest phone for this to work. It should work on older phones.
Once you have downloaded and set up your details on the app you are ready to select the course. On the main screen either select the event from 'Select Event' tab and navigate to the UK > Mole Valley > Trionium>Virtual KnackerCracker folder and select the event...
... or, once you are near the area, select the 'Events near Me' tab, assuming you have a good phone signal.
Set your phone so that it doesn't go into standby mode while you're doing your run, because if your phone is in standby mode it won't give you the 'ping' that tells you you're at a control. On Apple devices, go to Settings --> Display and brightness and turn Auto-lock to Never. After your run, remember to return your phone to its normal settings to preserve battery life and re-inistate security features. (Thanks to CLOK.org.uk for this advice).
• The GPS/Location services need to be enabled on your device. This will normally be the case if you have any other GPS-based Apps already on your phone (eg Google or Apple Maps).
• The App asks for permission to track your location and to save files on your device. For the App to work correctly you will need to say yes to allowing these permissions.
• Ensure any battery saver mode on your phone is turned off (as this is likely to affect the operation of the GPS)
• It is important that you allow MapRun to run in the background. This is generally set in "Settings > Apps > ... MapRun", but is different on different models and versions of Android/iOS.
(thanks to maprunners.weebly.com)
Only when you at the start point, click the 'Go to Start' tab.
When running, you will need to ensure your phone is fully charged and that GPS is turned on.
You do not need internet access or mobile data to run the course.
When you finish the course your results should upload automatically. If they do not you can manually upload once you have a good internet connection.
Once you have finished, you can see your GPS track and results, as well as the results for all other runners.
IMPORTANT NOTES: You should only participate in this event if you can do so whilst adhering to the current government laws and guidance e.g. observing social distancing. When running, please be courteous to others.
You are wholly and solely responsible for your own safety and conduct whilst running the course and using the app.
---
---
The 17th Knacker Cracker, 1 January 2020
Just over 210 runners turned out for the 2020 Knacker Cracker, with the most radical new arrangements for the race for several years: Parking at Denbies Vineyard and a new start at Burford Meadow (which had been under six feet of water two weeks earlier), but with the traditional finish at the top of Box Hill. Conditions were fine for running up and down hills - cool and cloudy but dry. Great times were set on the new course.
Major kudos to Hamish Cardno for running the race at the age of 74 (in 1:35:37), and to Christina Victor, 65, who has run ALL of the Knacker Crackers (that's 17 of them!), including the very first, when only 18 runners took part. Amazing.
For the ladies, Jo Payze was third in 1:07:58, while Grace Fisher of Wimbledon Windmilers was second in 1:04:49. However, setting yet another course record and finishing in 54:22 (seventh overall) was Knicker Knacker winner Carla Molinaro (35) - who later in 2020 went on to break the women's record for running from Land's End to John O'Groats.
For the gentlemen there were many good times, with 20 going under 1 hour (21 including Carlo Molinaro!) - a tough benchmark to achieve. In third place was Alex Money in 51:39, second was Rhys Gillard (Southend AC) in 49:42, but in first place was Steve Winder (48, Epsom & Ewell AC) in a stunning 49:02, wearing nothing but a bowtie and cuffs, skimpy running shorts and a cheeky smile.
The fancy-dressers were as amazing as usual, with Marios, a couple of hairy Vikings, Mrs Mopps, a Mushroom Man (from Mexico), a zombie raver, the Care Bear Family, some elves, 'Elf'n'Safety,' Knacker Cracker cloak-wearers, Spiderman and other super-heroes, two ancient Greeks, Kajagoogoo, some cows, Adam Ant, bumble bee, various men taking the opportunity to dress as women, Harley Quinn, an RAF Fighter Ace, a penguin, Bananaman, some bananas, a boxer (with boxing gloves), a Star Wars stormtrooper and Darth Vader (RIP David Prowse), a 10 of Hearts, Minions, skeletons and some things that we couldn't quite identify. Winners of the quite random fancy dress prizes were the team dressed as chickens and eggs (turns out that the chicken came first): three gentlemen dress as various incarnations of Freddie Mercury; a chap who ran the whole race with an enormous inflatable dog strapped to his back, and Lisa, who ran with ET strapped to her front in the manner of the chest-burster from Alien.
HUGE THANKS to the awesome marshals - super-big thanks Nigel Green for helping to set out the course, and for sweeping!
Leave comments/review the race (or email rob@trionium.com)
See runner ratings/comments on the Knacker Cracker 2020
Knacker Cracker 2020 Results (you may need to refresh your browser window/dump your cache/clear your browser history).
Knacker Cracker 2020 Photos from Steve Rencontre
Steve Rencontre's Knacker Cracker 2020 Photostory
Knacker Cracker 2020 photos (by Gaz Davies)
Below: Race regular Christopher Convey couldn't make the race this year, so he took his costume out for a run in New York City!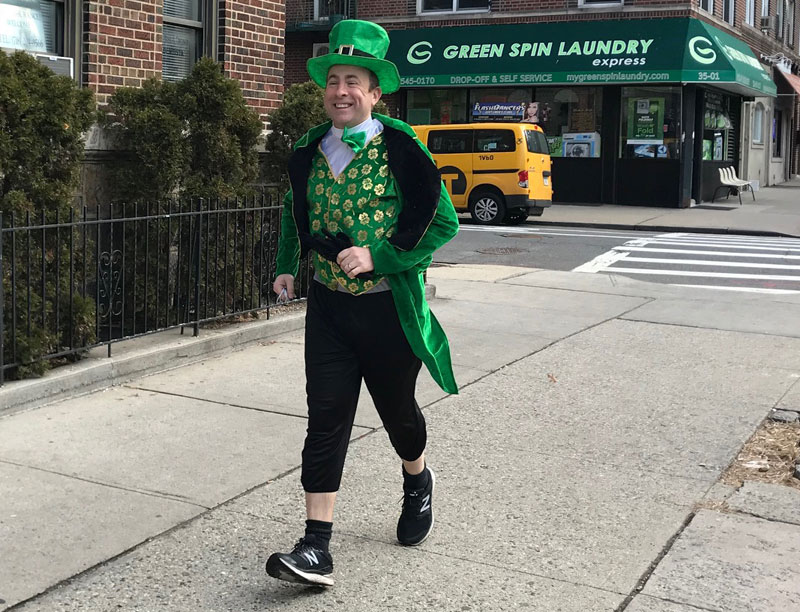 2020 course was 10.4km, with 389m of elevation loss and 524m of elevation gain (50.38m of gain per km - a Grade A Fell Race)
---
16th Knacker Cracker 2019
Knacker Cracker 2019 results (make sure to refresh your browser window and dump your chache - the results are there!)
Knacker Cracker 2019 photos on Flickr - for free use (credits: Gaz Davies, Trionium, Nickie Bonn)
Knacker Cracker photos 2019 by Steven McCormick (email him for full-sized photos if required).
Rate the Knacker Cracker 2019 and leave comments (Runner's World)
See all runner ratings and comments (Runner's World)
Race report on runABC South online
In fabulous conditions, dry and sunny for a change, 250 hard-core runners turned out for the 16th Box Hill Knacker Cracker on 1 January 2019. The fancy-dressers really excelled themselves this year, with notable dressers including Elvis, a Star Wars family, Spiderman, Darth Vader, two sets of two 'old ladies', two separate Cookie Monsters, a leprechaun and Statue of Liberty, a bee, Ironman, a chap in a swimming cap and speedos, a ship's worth of pirates and a plethora of 80s pop-stars (from Leigh-on-SeaStriders, the club which sent the most runners to the race), a glass of beer and two people dressed as 'I'm a Celebrity, get me out of here' contestants, complete with creepy-crawlies. Outstanding.
Conditions out on the course seemed to suit the runners, with 17 runners going under the hour for this exceptionally tough, hilly and tricksy course. Third home for the ladies was Madeleine Armstrong, 38, in 1:06:54, and second waslocal lady Claire Whittaker, 44, in 1:04:30. First lady home, in seventh place overall, smashing the course record by over four minutes and becoming the first lady to break the hour by finishing in 55:50 was Carla Molinaro, 34, of Clapham Chasers.
For the gentlemen, Matibini Matibini, 43, of Leigh-on-sea Striders was third in 53:33. Second was local lad Steve Winder, 47, running for Epsom and Ewell Harriers, in 50:49. However, 33 seconds faster than veteran Steve was youngster Rhys Gillard, 24, of Southend AC (second claim, Leigh-on-sea Striders), who beat the course record by 18 seconds, to win in 50: 15 (he runs a flat 10k in around 33:30), setting a new course record. Bravo!
Carla Molinaro and Rhys Gillard, fastest lady and fastest gentleman, both win free places in the UK Wife Carrying Race on 3 March.
Runners loved the race, and were very complimentary about the super marshals as well. We greatly appreciate your appreciation and all your kind comments!
We hope to be back in 2020!
Quotes of the day 2019:
"The runners at the Knacker Cracker are the 'cleanest' I've ever come across: Not one gel packet, and cups and bottles neatly left at the signs. It was awesome." Nicky Donbavand, course sweep (with Grant).
"I just had to email again to say a HUGE thank you! It was bloody marvellous! So much FUN! Amazing atmosphere, everyone chatting, encouraging each other along, helping. ...Brilliantly organised. We will definitely be back! Have a fabulous 2019, start as you mean to go on!" Nickie
"Legendary: a race to remind you that it's great to be alive (still)! Everyone should do this once in their life..." Jim Ashworth-Beaumont
"My favourite ever edition of one of the best (and toughest) races on the calendar. Superb organisation and tremendous fancy dress all round." Steve Winder
"Thanks - Great event as ever, quite the best - the rest of the year goes downhill from the Cracker. I'm already wearing the 2019 shirt with pride. Brilliant!" Martyn Davidson
"As usual a fantastic Trionium race. Fantastic support from spectators and fellow runners. Eco-friendly and such fun! The best start to the new year!" Claire Whittaker
Below: The finish of the Knacker Cracker 2019 - happy days!
---
15th Trionium New Year Box Hill Knacker Cracker
Well done to all runners at the Knacker Cracker - Knicker Knacker - Nipper Knacker 2018!
Knacker Cracker 2018 results now up (make sure to refresh your browser window to be able to see this year's results - they are there!
Rate the race and leave comments on the Knacker Cracker 2018 - Runner's World
See runner ratings and comments 2018 - Runner's World
Steve Rencontre's unedited race video - should be everyone on there!
Steve Rencontre's nice photos of the Knacker Cracker 2018 on Flickr
Steve Rencontre's Photo Story of the Knacker Cracker 2018 - Carry on Cleo!
Gareth Davies' photos on Flickr
Colin Mitchell's nice photos on Flickr - help yourselves! (Thanks Colin!)
Knacker Cracker 2018 discussion thread (Runner's World)
Abbi Naylor - 30 endurance events in 2018 to help mental health in the young
I am extremely excited about the Box Hill Knacker Cracker as it is the first of 30 endurance events I am taking part in in 2018, ('thirty4thirty'), to raise money for the charity Young Minds, and to raise awareness of mental heath in the Young.
There's much more information - including the list of endurance events - on my web site. Please support me in any way you can for this worthy cause - thank you!
Abbi finished the Knacker Cracker in 1:43:44. Way to go Abbi - One down, 29 to go!
Read Abbi's eye-opening blog of her Knacker Cracker experience!
Oi, teacher, leave that elf alone! Steve Winder, a teacher, chases first finisher Alex Money, dressed as an elf, at the start of the Knacker Cracker 2018. Photo: Colin Mitchell

---
14th Knacker Cracker 2017
Wow - we were lucky with the weather - soon after we finished and packed up, it chucked it down!
Quote of the day 2017: "Thank you so much for organising such a great event....I can't think of a more perfect way to start the New Year. Everything about the Knacker Cracker is superb...the National Anthem, the piper, the Jaffa Cakes, the soup and roll at the end....and the heat sensitive mug is a thing of beauty! So...THANK YOU and wishing you all the best for 2017." Ric and Bethany Adams
The 14th running of the Trionium Box Hill Knacker Cracker/Knicker Knacker/Nipper Knacker took place on 1 January 2017, when 240 hard-core runners assembled at the stinky top of Box Hill (the National Trust's sewage digestor had broken down, creating a huge pong). The fancy-dressers seemed to have excelled themselves this year, with a huge variety of costumes on display: Among the many highlights were two bags of jelly beans (who shed their beans in short order and then all around the course), Donald Trump and two put-upon Mexicans, a whole troupe of Star Wars characters (including Yoda and Princess Leia), a flock of self-flagellating pilgrims including someone claiming to be Dominic Grieve QC, many super-heroes including a Spiderman in full-face make-up, a Sumo wrestler, three little bees, Cousin It, a Dalek, a gentleman dressed as Trotter's Reliant Robin, the Paw Patrol, David Bowie/Ziggy Stardust, a bare-chested Scotsman in a kilt and many, many more.
The course was in good condition, leading some great running times. Third home for the ladies was Harriet Addison, 27, of Clapham Chasers, in 1:03:45, while second was Christina Jenkins, 35, just in front of Harriet, in 1:03:30. First lady home was Dwynwen Lewis, 30, in 1:00:38, just 30 seconds outside the course record.The gentlemen were particularly quick this year, with the top three men all breaking the old course record. Third gent home was Matibini Matibini, 37, of Leigh on Sea Striders in 53:05, seond man home was Andy Massingale, also 37, of Henfield Joggers, in 51:43, while first finisher and setting the new course record was previous race winner Dan Robinson, 41, of stroud and District AC, in a blistering time of 50:34.
HUGE thanks to our marshals, without whom this race could not take place!
Knacker Cracker 2017 RESULTS (make sure to refresh your browser window to see the results)
Knacker Cracker 2017 photos (Thanks to Gaz Davies)
Knacker Cracker 2017 photos (Steve Rencontre)
Please send any write-up/blog/photo links to rob@trionium.com
See runner ratings and comments 2017 (Runner's World)
Please rate the race and add your comments on the Knacker Cracker 2017 (Runner's World)
Knacker Cracker 2017 discussion thread (Runner's World)
Steve Rencontre's Knacker Cracker 2017 Photo Story - 'Wacky Races'!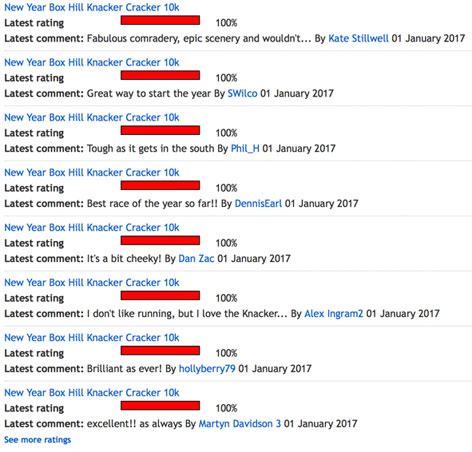 ---
13th Knacker Cracker 2016
Well done to all runners in the Knacker Cracker 2016, who ran in the quagmire. Huge thanks to the marshals.
Quote of the day: 'Outstandingly bonkers.' Dan Zac
Leave comments and Rate the Knacker Cracker 2016 - please!
Knacker Cracker 2016 Photos - by Gaz Davies
Knacker Cracker 2016 Photos at the first turn - by Rebecca Clay
Knacker Cracker 2016 - Forest Crossroads (a bit dark!) - by Kat Eagle
Knacker Cracker-Knicker Knacker Race Results 2016 (make sure to refresh your browser window to see 2016 results)
Knacker Cracker 2016 discussion
On 1 January 2016, 250 hard-core runners turned out for the 13th Knacker Cracker 10k run, from the top of Box Hill in Surrey, UK. Many runners had made great efforts to run in fancy dress, and notable costumes included a team of five running as the Presidents of America; Pinnochio, a storm trooper, Darth Maul and Darth Vader, Mr & Mrs Viking-Raider, a team of zombies, several bunches of grapes, a pair of whoopee cushions, a runner in a straight-jacket, a frogman, several super-heroes, some fairies, a man with a Spitfire on his head, elves and Father Christmas, various animals and birds, some Minions, bare-chested warriors and people running in kilts, some 'Where's Wallies,' a pair of penguins, plenty of other colourfully-bedecked runners and a full team of huntsmen chasing a fox.
Nearly a dozen brave and tough youngsters managed to complete the Nipper Knacker, which is the first (down AND uphill) hill of the race. At the front end of the full race, there were some fast performances, depsite the slippery mud on the course. For the ladies, Elizabeth Barker of Headington Road Runners was third in 1:04:32; Carla Molinaro (a previous winner) was second in 1:02:39; while first (12th overall) and setting a new record for this course was Sarah Rollins of AFD, in 1:00:08. Eleven gents broke the hour (a major achievement), with Andy Massingale finishing third in 55:38 (dressed as the late Lemmy from Motörhead and who dislocated his finger in the race but carried on running all the same); Luke Worthington of Henfield Joggers was second in 53: 47, just 11 seconds ahead of Tom Robertson of Ravens, who finished first in 53:36 (only a few seconds outside the men's course record) - running in full costume as Bananaman - that's the way to do it!
Plenty of fantastic marshals turned out to help the race run smoothly, including a team from Rianna's Fund who marshalled the Stepping Stones area. The race is kindly permitted by the National Trust, with medical services provided by St Johns Ambulance. Race merchandise is supplied by Winning Ways (not the medals though!), while t-shirts are provided by T-Print Clothing Solutions. Cheese and pickle rolls are hand-made on New Year's eve by the race director and his family, while the soup is cooked and served by Mrs Soup Dragon and 'The Roblets.'
Thanks for the kind comments and ratings!
... And the prize for scariest costume goes to.... Anthony Hill (No 112) - this is giving me nightmares!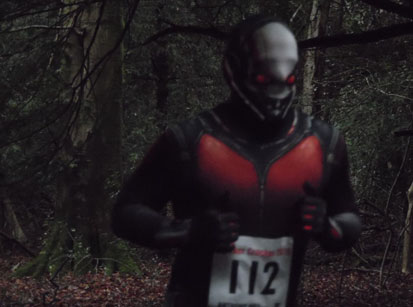 ... and the team prize for fancy dress goes to these guys - 'The Sandhurst Hunt'!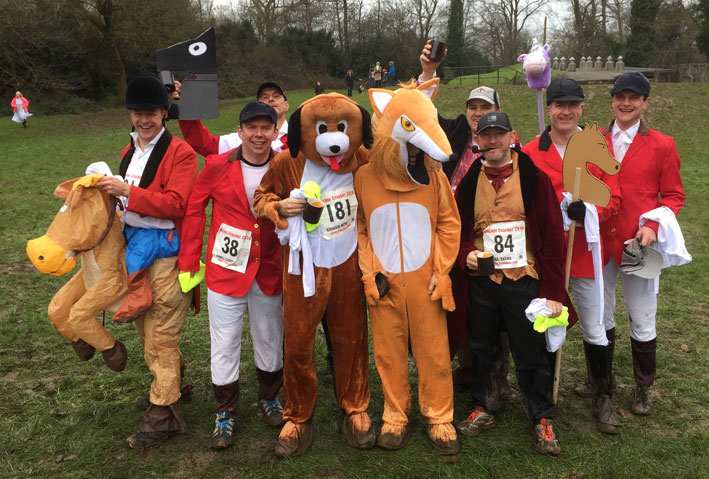 ---
12th Knacker Cracker 2015
WELL DONE EVERYONE - GREAT RUNNING TODAY!
Special thanks to all our marvelous marshals!
Well done to the dozen nippers who ran in the Nipper Knacker - good effort! Sarah Hoftman was first home, followed by Sally Russell, Harry Thomas, Olly Slack, Lucinda Slack and Leo Hoftman.
Video up here much later.
Black Line London's great video of the Knacker Cracker 2015 (+ cake)
Our Knacker Cracker photos 2015 - photo credits Gaz Davies, RMcC and a chap from the crowd!
Knacker Cracker Results 2015 (make sure to refresh your browser window to see 2015 results)
Knacker Cracker discussion 2015
See Knacker Cracker 2015 runner ratings and comments
Steve Rencontre's fabulous photos from the Knacker Cracker 2015
Steve Rencontre's Knacker Cracker 2015 Photo Story
Lizzie Wilkinson's photos of the Knacker Cracker 2015
Garmin Connect trace of the course for 2015
See the Route page for the Knacker Cracker 2015 route and profile
Quotes of the day 2015:
'What a fantastic 10k run with so many in fancy dress. Thought I knew the area well but was surprised how bloody hard it was with so many steps! Very many thanks to all the marshalls and soup and roll at the finish was brilliant.' Rob Z
'The Knacker Cracker is back to its brilliant best' - Dennis Earl
'A run with more bonuses than Goldman Sachs' Running5K
'Toughest/Best yet - the climb was ~52.6m/km (a Category A Fell Race only needs 47.5m/km!)' Phil H
On 1 January 2015, 250 or so hardy runners started out on the new course - starting from the Old Fort at Box Hill - to conquer the toughest Knacker Cracker yet, featuring a 'bonus' hill after the shortened course of 2014. Five ruddy great ascents of Box Hill following, including the 'Eiger Steps'and the stepping stone steps (always a favourite with the runners). Many runners ran in fancy dress - including one as a pint of Guiness. Conditions were cold, windy, muddy and drizzly - just how we like it.
Third home for the ladies was Christina Jenkins from Full on Tri in 1:09:21; second was Nikki Cox in 1:08:45; while the first lady home and the winner of the ladies' race, The Knicker Knacker, was Ruth Homes in a speedy 1:05:58. For the gentlemen, Michael Caffyn was third in 56:54; Alex Money was second in 56:48 (only six seconds ahead of the third-placed finisher), while in first place, by two-and-a-half minutes, was Dan Robinson of Stroud and District AC, in a very impressive 53:20. Dan represented Great Britain in the marathon at the 2004 Athens Olympics and the 2008 Beijing Games, and has a half marathon PB of 1:03:42 and a 10k PB of 29:12 - verily we were in the presence of 'running royalty'!
Below - some of our favourite images of the Knacker Cracker 2015 - Photo credit Gaz Davies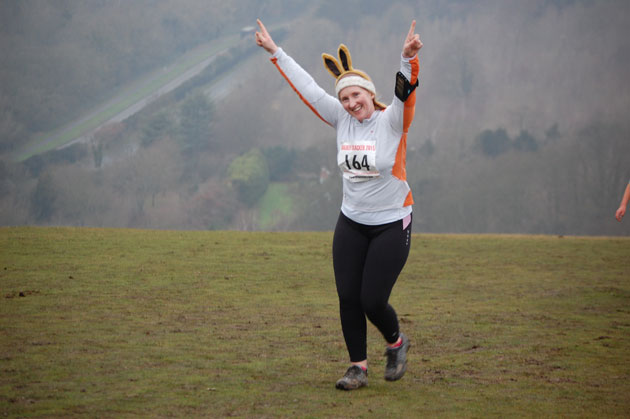 Thanks to all raters!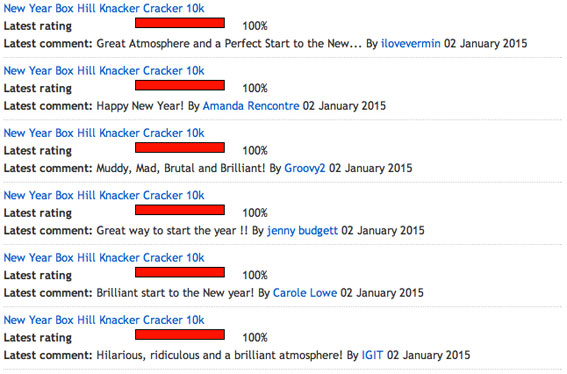 ---
Blitz Spirit reigns supreme at the 11th Knacker Cracker 2014
Quotes of the day: 'Thanks to the organisers for persisting despite the weather and thanks to the marshals and spectators who were out there cheering us all on.' Alan F
'Not worried about running the shorter course as I know what to expect next year & will put in a bit more training...... Left with a huge smile.' Nadine Elley
'Life isn't about waiting for the storm to pass: It's about learning to dance in the rain' - Sally the Soup Dragon, after Vivian Green
On 1 January 2014, despite freezing temperatures, increasingly heavy rain and near gale-force winds, around 200 plucky runners raised themselves from their beds while the rest of the slovenly world was sleeping to attempt Britain's top-rated trail race, the Knacker Cracker. Following a rousing rendition of the National Anthem, the 'hardest of the hard core' set off up the first of the Knacker Cracker ascents of the famous Box Hill Massif. Alas, almost the entire field ran a shortened version of the full course, following a wrong turn after the first road crossing (many finishers were happy that they hadn't been out in the terrible conditions for longer). All the same, runners were almost universally jubilant to have completed even the shorter course - and oddly enough, no-one elected to go back and run the full course, which was still fully marked out with tape, signs and expectantly waiting marshals. The really atrocious weather conditions, which steadily deteriorated yet further, meant that runners had experienced the full face-tingling, lung-bursting, hand-freezing giggle-fest of the Knacker Cracker. Three nippers even turned up and ran the inaugural Nipper Knacker - Sally Russell (10) and Jaymes Russell (11) were first and second: well done all you future Olympians!
As stated at the start of the race, it was a marginal call to run the race at all, but if the race medical providers (St John Ambulance - hooray!) turn up, and the runners turn up, and the marshals turn up, then the race is on! We are sorry that a particular sign was blown down at a crucial junction - tape was still in place to lead the runners along, but even runners who knew the course followed the man in front and went wrong. However, three runners completed the course correctly: Richard Goulder (in 1:18:38) for the men, and Pauline Mackey and Nicky Donbavand (somewhat later) for the ladies - well done!
WELL DONE TO EVERYONE WHO TURNED OUT - A FIRST CLASS EFFORT!
MEGA-THANKS to all our brilliant marshals - and sorry for the hypothermia!
HUUUGE RESPECT to all the fancy dressers!
Poem of the Day 2014: The Road Not Taken by Robert Frost
Two roads diverged in a yellow wood,
And sorry I could not travel both
And be one traveler, long I stood
And looked down one as far as I could
To where it bent in the undergrowth;

Then took the other, as just as fair,
And having perhaps the better claim,
Because it was grassy and wanted wear;
Though as for that the passing there
Had worn them really about the same,

And both that morning equally lay
In leaves no step had trodden black.
Oh, I kept the first for another day!
Yet knowing how way leads on to way,
I doubted if I should ever come back.

I shall be telling this with a sigh
Somewhere ages and ages hence:
Two roads diverged in a wood, and I—
I took the one less traveled by,
And that has made all the difference.
Chris O'Connor (Cojo Films) - Full video of the Knacker Cracker 2014
Knacker Cracker 2014 results (make sure to refresh your browser to see the 2014 results)
Tobias Mews' race write-up on Tthe Telegraph web site
Nicky Donbavand's race write-up
Gaz Davies' photos of the Knacker Cracker 2014 (Gaz organises the Richmond Park Marathon 18 May 2014 - a true runner's race!)
Steve Rencontre's photos of the Knacker Cracker 2014 (He was waiting for runners at Juniper Bottom - gah!)
Lizzie Wilkinson's Photos of the Knacker Cracker 2014 - on Flickr
It was a bit windy at the Knacker Cracker - Chris O'Connor's short video...
See Knacker Cracker Runner Comments 2014
Knacker Cracker Discussion 2014 (RW)
Dennis Earl's video of him and his son running the Knacker Cracker 2014
Knacker Cracker 2014 Garmin trace by Pete Morgan
Huge congratulations to Nick Gosling - first runner to complete all of the Trionium races - culminating with the Knacker Cracker 2014!
Our time-keepers eventually retired with hypothermia (seriously), after valiantly battling the atrocious conditions.
Please see the Knacker Cracker 2014 as an event rather than a race - on this course, all times and positions are meaningless anyway!
Christina Victor (in red) - the only person to have run in all of the Knacker Cracker races!
Note horizontal bullet-like rain...
Armour was needed on this day...
Above: Still smiling - or that a grimace?
Below - only for those with a strong stomach - click on the image for a full size image.
---
Knacker Cracker-Knicker Knacker 2013
WOW! That was brilliant! Thanks to everyone who turned out - and MEGA thanks to our MEGA-Marshals!
Knacker Cracker 2013 preliminary results: Make sure you refresh your browser screen to see updated page!
Knacker Cracker photos 2013 - main credit = Duncan Irvine
Knacker Cracker Fancy Dress Parade 2013 video
Runner comments and ratings 2013
Below: Runner's World ratings the day after the race.... thanks guys!
---
Olympic-Edition Knacker Cracker 2012
Well done to all finishers in 2012 - it was an olympian effort to complete the Knacker Cracker (12k!) 2012!
HUUUUGE thanks to all the excellent marshals!
Most were lucky with the weather... some at the end not so lucky (it chucked it down!)
Quotes of the day: 'The steps at the end were actually loaned to the National Trust by Satan himself.' AweSimon
'Singularly THE most excruciatingly wonderful, painfully stupendous, best, and yet also worst thing I have ever done. Thank you, I'll be back for more next year!' Owen Delaney
Discussion 2012 (Runner's World)
Photos 2012 (Thanks Gaz - superstar!)
Results (make sure you refresh your browser window)
Video of start and Boxhill Lookout - courtesy of Chris O'Connor and 'wife'
Good video of start, Box Hill and finishing sprints...
'Olympic' course record (2012): Male: Jake Moran 58:31; Female: Carla Molinaro: 67:08
Fancy dressers at Box Hill and one free-runner (no shoes) in green.... never identified (a ghost?)
Post-script. The runner was identified in August 2020 as Major Christopher Brannigan - a famous barefoot runner and campaigner. Chris, well done!
---
Knacker Cracker 2011
Photos 2011 - Thanks to Gaz Davies!
Great Photos from 42run (and on Flickr)
See race ratings and comments 2011
Quote of the Day 2011: "There were many highlights but the best for me was definitely the surreal Monty Python moment at Juniper Top where Death was standing next to four cows lined up in perfect formation watching the crazy humans." Jon Gillott
A record-breaking 300 runners turned out to run the Trionium Box Hill New Year Knacker Cracker 2011, in cool and muddy conditions. A new start at the race involved the massed ranks of runners, many in outrageous fancy dress, to hurtle downhill from the top of the Burford Slope to the bottom of Box Hill, before turning around and struggling back up to the top again, to the tunes of a Scottish piper in full highland regalia. There followed four other ruddy great hills, both up and down, as well as a crossing of the stepping stones over the River Mole. Apparently someone decided to have a bit of a dip while passing over them.
First three ladies home were Carla Molinaro (52:44, an outstanding effort and winner of the 'Knicker Knacker), Natash Swan of Seaford Strider (58:24) and Lucy Buckby of Datchet Dashers (59:03). Third man home was Tobias Mews (33) of Clapham Chasers (47:35), second man home was Dan McCormack in 47:24 (and the fastest fancy dresser, running as a Spartan with helmet, toga and sword) and the first man home and the winner of the Knacker Cracker 2011 was Sylain Garde of Addiscombe CC in 45:51, setting a record for the new course.
Fancy dressers included a team of seven morris men, a team of Blue Morphs, a Chilean miner, a fast bottle of champagne, the Incredible Hulk, fairies, Spiderman, a 'naked' runner, a fast PacMan, a pumpkin scarecrow, Princess Leia, a Centurian, a monk, the Spice Girls, the girrls from St Trinians, Bill and Ben, a muppet, Death and all sorts of wild and wonderful creatures.
Massive well done to Kathy Hammond for finishing the race and thereby raising £2k for a children's cancer charity!
The race will have also raised over £1250 for charity, including Rianna's Fund and the James Atkinson Bequest
Knacker Cracker 2011 in the Rabies newsletter
MEGA thanks to all the marshals (special mention to the time keepers!).
---
Knacker Cracker 2010
UK Athletics Permit No. 20090312 (2010)
'House' photos... (special thanks to Gaz Davies and Paul Brown!)
Spectator photos at www.42run.com
---
On 1 January 2010, 265 intrepid runners set out on Britain's toughest 10k race, around the trails and tracks (and steps) of Box Hill. A stunning array of fancy dress was on show, and the many spectators enjoyed the parade of wild, woolly and weird costumes. Costumes included Alice in Wonderland characters, a baby, Batman and Robin, a bumble bee, a burger, a butterfly with bright yellow body paint, several ladies running in evening dress (and pearls), fairies, Laurel and Hardy, a zulu, the spectacular Knights of Ni (complete with wooden swords, chain mail and coconut shells), Little Miss Muffet, a prisoner on the run complete with ball and chain, Santa and Miss Santa, nuns, two mimes, Baywatch babes and hunks (including lifesaving gear), the devil, a reindeer, a chap in a sumo suit, superwomen, a team of vikings, a piece of fruit, a man on a horse, a hunky nearly-naked tree, wonderwoman and Zorro - and lots of other wierd and wonderful fancy dress runners, some of whom were difficult to exactly identify....
The race raised over £1000 for local and national charities.
Thanks to everyone who took part - special thanks to ALL fancy dress runners. MEGA-thanks to all the marshals!
---
Knacker Cracker 2009
---
Videos on YouTube courtesy of Andy Southern
Fantastic professional photographs
RW discussion forum on this event - 2009
---
213 brave (or foolhardy) runners gathered on 1 January 2009 on the flanks of Box Hill near Dorking in Surrey for the 6th running of the Trionium New Year Box Hill Knacker Cracker, a far cry from the 18 pioneers who took part in the first running of the race five years years previously. The first 12km race took a rather different route, including a perilous right-hand-turn road crossing, and included more flat sections. The second and subsequent races have avoided roads, sticking to rough tracks around Box Hill, but a 2km flattish section of the run was eliminated from the run in 2007 to make the race a standard 10km, as well as making it much steeper. Fancy dress was introduced in 2007 as well, and more and more participants now run in all manner of costumes, making the event very popular with spectators.
The Knacker Cracker, as many participants have agreed, "Does what it says on the tin," in that it is Britain's toughest 10k, including the greatest amount of climbing and descent over the 10km distance. Four ascents of various parts of Box Hill are included in the course, including a lung-bursting series of over 270 steps back up Box Hill from the stepping stones. The final descent to the finish line, a 1km-long downhill sprint, has been described as 'the best finish of any race, anywhere.'
In 2009, the race was won by Darren Treadaway (29) of Newham & Essex Eagles, in a new course record of 43:43. Duncan Archer was second in 44:20, while the winner in 2008, David Rollins (43) of AFD, was third in 45:15 (18 seconds slower than his previous best time). First lady home was Sarah Rollins also of AFD, the defending female winner from 2008, in a new female course record of 48:26. Pippa Whitehouse, Sarah's team-mate on the UK orienteering team, was second lady home in 50:32. First over-50 home was local man Andy Fay (53) in 51:20, in 14th place overall. The final runners home completed the course in just under 110 minutes, ten minutes slower than the previous year.
This year's fancy dressers included many santas, a runner dressed as a toilet (running for WaterAid), a pink panther, Spiderman, Superman, Batman and Mr Incredible, a nun, a bee, some tutu-clad fairies (not all female), a Masai Warrior (complete with spear), Mr T and BA Baracus, some chorus girls, the Hunchback of Notre Dame, a chimney sweep, a voodoo doll, an elf, a catwoman, some reindeer, a ghoul and a witch, a couple of pirates, a large baby, a man on a horse (inflatable), a girl just out of her bath, a gentleman in shower cap and dressing gown (who was third fastest runner overall - good effort!), the Stig (running in his helmet), and, last but not least, a team from Watford Joggers running/skipping as characters from the Wizard of Oz, including the Scarecrow, the Lion, Dorothy, the Wizard of Oz and most impressively, the Tin Man (he ran as Borat the previous year).
Over 30 marshals helped to keep chaos at bay, and gave huge encouragement to the runners all the way round the course. Several marshals even turned up in fancy dress, adding to the carnival atmosphere. The race finished with a medal, mug and technical long-sleeved shirt for all participants, as well as cheese and pickle rolls and tomato soup (which was greatly appreciated in the freezing cold conditions).
Overall, the race raised over £1200 for the race charities, which include Rianna's Fund, a local charity which supports a number of schools and orphanages in eastern Africa.
Huge thanks to all participants and marshals (and to the 'Roblets' and the Soup Dragon)
---
Knacker Cracker 2008
Our Photos and Results are now available
Post-race release 2008
A record-breaking field of 175 runners completed the Knacker Cracker 2008, in overcast and cool conditions, with sticky, slippy and treacherous conditions underfoot. An increasing proportion of runners come in fancy dress, and notable among the particpants this year were a bee, a monkey, at least one Bedu tribesman, two cavegirls and a caveman, several runners in dresses and assorted festive headgear, a female devil, fairies, french maids (ooh la la!), bunnies, hula-girls, Hawaiians, a pirate, the Pink Panther, a wizard, a team of elves, a Morris Man, a smurf (?) and, last but not least, a gentleman running as Borat, in a fluorescent mankini.
Despite the difficult conditions underfoot, both the male and female course records were broken. First man home, in an amazing 44:57, was David Rollins. In fact, the first five men home would have beaten the previous course record. First lady home was Sarah Rollins (making it a husband and wife one-two), also in a new course record of 50:06, bettering the previous record by nearly nine minutes.
The last person home ducked in under 100 minutes, coming in at 96:30, four minutes faster than the previous year's last placed runner.
At the post race gathering, raffle prizes were dished out and the race prizes eventually awarded to the correct recipients. By common assent, the prize for the best fancy dress went to Dave Dixon of Watford Joggers for running - on the edge of decency - as Borat.
The race raised over £1000 for a number of different charities, but once again primarily Rianna's Fund.
Once again, our fantastic race supplier was Winning Ways.
Thanks to everyone who took part. Big thanks to all fancy dress participants.
HUGE thanks to all marshals (and the soup dragon!)
---
What the runners said in 2008 (with thanks to Runner's World...)
I LOVED IT! Totaly insane! Challenging course but great fun! YEAH BABY! Whilst many people were unfortunate to have the Christmas flu bug or a hangover or both I was focused only on preparation for this race! At 9pm on the 30th Dec I did a 10K prep run in North Wales on the coast to burn off some of the Christmas crap before I returned home on the 31st. Dedication...?! The weather was drizzly on the morning of the run but everyone was in great spirits and anticipating the lunacy that lay ahead! Runners were started under 5 minute handicaps given their estimated finish time, slowest 1st, fastest last. This is not a PB course, that is a fact. If you finish this race in good shape you have done well. There are 4 ascents / descents of Box Hill varying in difficulty, Hard, Harder still, Even harder than that or Harder than hell... all challenging but so rewarding! The 2nd, 3rd and 4th ups are murderous it has to be said. The 3rd downhill consisted of some 200 odd steps (which you return up!) but the stepping stones over the river were great fun! The 4th downhill was simply the best I have encountered for a long, long time... fast, open and such fun! 200 or so people competing in this run is great testimony to Dr Rob McCaffrey and his team. The organization is fantastic, the marshals and spectators were hugely encouraging. A great T-shirt with a list of all the runners on the reverse plus a medal and commemorative mug and as much food / drink as you could manage was the prelude to the post race awards ceremony which was worth turning up for in it's own right - Dr Rob ad libbing his way through the awards plus a raffle / lucky bag with numerous prizes and the generosity was heart warming, everyone was a winner! Special mention for the guy who set a new course record - 44mins! Also a thumbs up for the fancy dress runners and the now legendary BORAT! How we laughed!
Hard but hugely-enjoyable event; raises much for good causes. I enjoyed being a cowboy, but does anybody have a spare kilt I could borrow for next year please ?!
Excellent fun and a great way to start the New Year. Well marked course, good marshalling.
I really like the spirit this race is run in - humour, support and everyone gets into the spirit of this fun but tough race. As ever, great organisation and look forward to starting 2009 off in the same way!
What a way to start the year! Mud and hills..All I expected and more, not for the faint hearted. 4 steep ups and 4 steep downs with mud, tree roots, stepping stones, a bridge, and loads of steps. Enjoyable but boy do my quads ache today.
Fantastic a must do race! Definately worth staying sober on New year's Eve for fantastic course - very tough my legs still ache! everyone very supportive and friendly left me smiling for the rest of the day ! will definately be there next year. Thank you to Rob and and everyone involved in the day and organisation of the event.
The "toughest 10k in Britain" it may be, but also one of the most relaxed, and certainly friendliest. How many 10k's are won by a man wearing a dress?
Even Chuck Norris would find those hills hard going. Very few things get me out of bed at 7am. A house fire and the prospect of the female cast of Hollyoaks at my front door being the leading two. However this race is a must-do for anyone looking for a New Year's kick. Fantastic scenery, lung-busting hills, and the kind of race camaraderie that'll leave you smiling for days.
My knackers (if I had any) would be crackered . . .Wow what a race! I was worried about this one - was I fit enough/would I be hungover? Well no and yes (a bit) but it was great fun and totally crazy! I walked more than I ran but so did alot of people I think, it was tough tough tough! The organisation was fab, everyone was really friendly and supportive and the medal, mug and t-shirt along with all the food laid on a the end was fantastic. What a great race! If my boyfriend lets me (he was not happy about leaving the party early nor getting out of bed with an atrocious hangover) I will be back next year! In fancy dress . . . .
he only race worth running on New Year's day. Four hills in one killer race. From the grind up Burfott to the murderous Mole Steps to the final ankle breaking sprint to the finish this race has it all. Also, superbly organised and very friendly. Thanks again Dr Rob!
Fantastic way to start the new year. What a run.
Killer cure for the New Year hangover. Deepest respect for Dr Robert and crew, who made this a race to remember. A real "hard as you like" introduction to the year and a kick start to serious 2008 training. This race has hills, humour, fancy dress and a carrot for each finisher! Borat deserves a special mention - boy that suit must have chafed...
A great run for the non-conformist.
Brilliant. Loved it! The atmosphere was really good. The Director asked us not to use MP3s etc. but to cheer each other on. It worked - it was so friendly. Also really nice to have slower runners go off first, so the faster ones were constantly overtaking us: again, really sociable. Of course the fancy dress helped - it meant the public cheered us on too. Terrain: REALLY tough. You run up (and down!) Box Hill three times. But it's fine - part of the challenge. Oh - and really good post-race atmosphere too: soup, cake, oranges, carrots, Mars bars, raffle with lots of prizes, and prizes for best fancy dress (which deservedly went to Borat)! Great race - highly recommended but no good for 10 k PBs!
Fun re-defined?!! Ache like hell today....walked far more of the uphills than I'd anticipated.....not as fit as I thought I was...but blown away by the encouragement from fellow runners/marshalls/organisers
MAD MAD MAD FUN!!!
The friendliest, best organised and rewarding race going! I'd like to thank Dr Rob, marshalls, runners and everyone else involved in this run. This was my second Knacker Cracker and is quite honestly one of the highlights of the year! How on earth is anyone going to out-do Borat's mankini costume next year??
Crackers but not knackers, superb!! Great fun, lovely scenery, worth the 130 mile trip from Bristol. Wasn't Borat a little over dressed though? Top marks!!
They promised hard - and it was. A near-perfect 1 hour, a pleasure.
Great fun, a top way to start the year!! My second time and thoroughly enjoyed again. Looking forward to next year already......
Just what it says on the tin: the toughest 10k you'll do; great route; great organisation; great fun.
Hilly, silly, chilly and on this occasion a man nearly showing his wi**y- see race photos!
What a fantastic way to start the year !!! Well done to rob and his team for another well organised race , great friendly atmosphere as always . having done this for the 3rd time why do I always forget how bloody hard the first hill is !! a great day to remember as this was my 100th race and I smashed last years time ! well done to all who took part .
Simply has to be done!
Outstanding event - lots of fun, especially the last 1km downhill. Somehow stayed on my feet throughout despite a number of slips and slides in the mud and thanks to the lady runner who pointed out the stile shortly before the 5km marker just as I was about to run into the wire fence. If I needed one, finishing just 5 seconds past the hour gives me another incentive to do it all again next year. Thank you to the organisers and everyone who helped out with marshalling, registration, drinks, timekeeping, refreshments and the St John's Ambulance for being on hand.
Fantastic fun way to start the New Year. Really great fun friendly atmosphere - and a pretty hard course.
Great way to start the new year. Plenty of mud and hills. Excellent!! Great way to start the new year. Mud, steep up-hills, mud, slippery down-hills and mud. Great fun!! As ever, superbly organised and marshalled. Best collection of finishing goodies ever! Awesome medal, a cool mug (more races should do mugs) and a unique t-shirt, plus a carrot!!
Brilliant race - incredibly tough but loads of fun. My personal worst (no suprise). Did make the mistake in entering of just adding 10 minutes to my PB for predicted time so ended up with the elite group and therefore carried the carrot for almost all the race. Brilliant organisation and great atmosphere. Will definitely do this race again next year.
A great way to sweat it all out. I really enjoyed this well organised and great run race. The handicapping is great as it allows you to run alongside, laugh with, encourage, a mixture of people en route. This means you never get isolated and you get to appreciate a costume or two along the way. I (shamefully) bottled the fancy dress this year but plan to be back in 2009 in a costume (although perhaps not a Borat one...).
Well done to Rob and his team for setting the whole thing up.
Absolutely superb. No better way to start the year. Great fun family atmosphere, even the top runners wear fancy dress.
Great way to spend new Year's Day.
An amazing way to blow the cobwebs on New Year's Day - Tough , Tough, Tough. A brilliant race - horrid steps - loved the fact that it was handicapped - great organisation
Hard and hilly but a great start to the year.
They mean it when they say it's the toughest 10k in England! Great fun, off the wall prizes and a fab medal. Not sure about the steps. Next year more people need to wear fancy dress!
Fab Fab Fab. Every year is always great, this year was fantastic. Will be back next year
As hilly and hard as you can get - what a great race !!
Just a brilliant morning on box hill. Fantastic event from start to finish. What a laugh, borats fancy dress costume was so very very wrong on so many levels but was also the funniest thing I have seen in a long time..
What a start to the new year, heart pounding challenge with a great sense of achievement!
Get your entry in now. Fabulous fun fun fun. Great race brilliantly organised by enthusiastic Dr Rob and his medics to ensure an amazing atmosphere. Marshalls and helpers all first class as always for a Trionium event. The course is tough and also fun. You must must must enter every Trionium race you can. Great to see every runner on the way round - really added to the atmosphere. Everyone was having a ball! What better way to spend New Years Day than with the harmlessly deranged Knacker Cracker folk. Thanks to all those who spanked my bare bum on the way round - I enjoyed every one. Excellent race, atmosphere, medal is brilliant as is the mug, raffle, cracker pulling and oh everything. See you all next year my friends (Speed Bump - aka Borat!)

The best race I have ever done. it was a runners' party on boxhill! this was the best trionium event I have done and that is high praise indeed - chapeau Rob! atmosphere superb. organisation and marshalling 1st class. fancy dress was a great idea - support from the other participants was uplifting (and we really needed some lifting up those hills) and made even better when it came from cavegirls, pink panther, the elves, and especially borat (massive respect is due) and lynne the bunnygirl. after race food was excellent with the soup an especially good idea. raffle n prizegiving most amusing. the momentos were niiice and THAT MEDAL is surely the best ever - wear with pride! thanks to all my fellow runners for making it such a great day - steve the swimmer.
Well I got my personal worst, but what a great way to get it!!! The hills were steep, the mud was sticky, the scenery was glorious, the marshalls were AMAZING and a BIG THANK YOU from me for keeping me going, what an amazing way to start the year....Great momento's too (altho like the other reviewer, please could you order more large's) But that wouldnt put me off, JUST AMAZING, well done to all invovled...
Murder... with a smile on its face! If I never see another step again, it will be too soon - that last climb up from the stepping stones was absolute bloody murder!! - But great atmosphere, brilliant organisation and a truly superb race - I only entered on the day when I woke up and decided the hangover wasn't tooo bad! - Really happy I did - will be back next year, and will defo book my place early.
That cured the hangover. A tough course but lots and lots of fun and some very nice mementos to take away with you. Thanks to Dr Rob and all the marshalls for organising such a great event, I will definitely be back next year.
You've got to do it - better than sitting at home with rubbish telly! A fantastic start to the new year. Everyone seemed to be really enjoying themselves. The mud wasn't too deep (though sticky) but the downhills were treacherous - landed on my bum a couple of times! "I'll be back!"
What a fab way to blow away any cobwebs and start the NY....handicap race meant I didn't feel like I was last....not too serious and ok for all abilities (well I did walk a fair chunk of the hills!)...lots of encouragement and great fancy dress outfi
Bloody hell that was hard..................but boy was it a laugh!!!!! Hardest run I have ever done, I thought running downhill was gonna be easy......WRONG ! Everyone to do with the race was excellent, great support by the marshalls standing there in the cold. Nice touch was the sweets at the drinks stations. And the amount of fancy dress was amazing. Hats off to Borat. Never before have I been in a race where the quicker runners give you support all the way round. Mug and medal was really good (long sleeve top was a nice touch, but like other races only have mediums left for us slower runners.......can you order more large's next time please.....better too big than too small). Will be back next year fitter and knowing what to expect.
Beastly uphills and suicidal downhills but great fun despite it all. Great way to start 2008 - I'll be back next year hopefully to run a bit more and walk a bit less! Great comraderie between runners - and a shout out necessary to Borat for running in only a thong!
Fantastic way to start the year - gonna be sore tomorrow though! Fantastic race with great organisation. Tough course with all the hills and steps, but scenery was amazing, all runners were really friendly and loads of support from fabulous marshals and the public out for a walk on New Year's Day.
Definately recommend this to anybody up for a challenge and a different way to start the year. Will definately be back in 2009!
So mad it almost makes sense! Dr Rob has done it again! Despite the foggy conditions, we had a great, if tortuous race. There were big hills, bigger steps, and then the liberating downhill last sprint to the finish, but not before a lot of mud and pain. This race is a MUST for those who love challenges, really nice people and a plethora of raffle prizes at the end, not to mention a fabulous Borat-lookalike, complete in swimsuit cozzie - best costume by popular acclaim! I'm already getting my 2009 application ready...

A bit misty this year but enjoyable all the same. Did anyone see Elvis in a thong?
Brilliant run, off the wall prizes, hard and hilarious. Do it!
Best race ever run - great fun. Fantastic atmosphere, great organisation, loads of entertainment and great scenery but not for the faint hearted. The hills down are as scary as the uphills!
More of an outdoor party than a race. Best atmosphere of any race I've done, everyone really friendly and encouraging, which is lcuky because the amount of running possible is minimal unless you are relatively fit. Very hard work, but that doesn't seem to matter.
---
Below is the graph of the estimated versus actual time for the Knacker Cracker 2008. Ignore the values at the bottom - they appear to be wrong.
There's a good correlation, but wide scatter: runners tend towards getting it right, but seldom actually manage it.
Your best estimate is to multiply your best time for a flat 10km by 1.4. In the end, it doesn't matter!
---
---
---
Post race press release 2007
In glorious sunshine after days of sullen skies, gale-force wind and rain, the 4th New year Box Hill Knacker Cracker 10k race took place on 1st January 2007, attracting 140 runners from around the UK and from as far as Scotland, Wales, Belgium, Greece and South Africa. The course includes around 475m of ascent and descent, and with the muddiest conditions yet encountered on the punishing route, the race was rightly billed as the 'Toughest 10k in Britain.' The race includes four separate climbs of various parts of Box Hill, and is organised with the kind permission of the National Trust.
Gavin Francis of Sheen Shufflers was the fastest over the course, finishing in an astonishing 48 minutes and 41 seconds, while the fastest lady was Carla Molinaro in 18th place, finishing in 58 minutes and 53 seconds. Both efforts set new course reconds. Fancy dress was strongly encouraged, with fairies, elves, Santas and a centurion taking part. However, a fully-upholstered Wonder Woman, Babs Bukanola, won the Best Fancy Dress category in the race, and even managed to finish in 55 minutes and 39 seconds, in 8th place. Full marks to everyone who made the extra effort to run in fancy dress!
Two runners (Gary Timms and Sarah Nesbitt) celebrated their 40th birthdays on the day of the race.
Marshals from Dorking and Mole Valley Athletic Club helped on the day, as well as a number of other fantastic, enthusiastic and competent mashals (THANKS!).
The race raised £879.77 for charity, including donations to the National Trust, St John Ambulance, Cystic Fibrosis Trust, Downs' Syndrome Association and Rianna's Fund. Thanks to all contributors!
Our fantastic race supplier was Winning Ways.
Thanks for all your enthusiasm, efforts and help. See you next year!
Rob McCaffrey - race organiser
---
Runner Comments 2007
(With thanks to the Runner's World thread)

Makes you feel alive & kicking!! Fantastic race, very well organised, great atmosphere,-infact pure maschostic madness -but what fun!!. The other runners were supportive to all, before the race, wondering what madness we'd got ourselves into, during the race realising we'er all mad as hatters, but next year our madness will be totally & utterly confirmed as we'll all be back for more!! Thankyou Dr Rob & your team for such an excellent race!

Even more of those killer hills this time! Thanks for another great race, even though another lap of Box Hill had been added in! It was a lovely day, well oprganised as usual and I thoroughly enjoyed it despite the lung-burning climbs. That's what we were all there for really ;-) My legs feel as if they have been through a mangle. To see some reviews say "tough hills" is a bit too "Enid Blyton". To say pure suicidal torture would be more appropriate. I thought I was fit. I now know I am not. Can't wait for next year's!! Excellent way to start the year Four steep hills in one, even steeper downhills, lots of mud, lots of fun - New Year's Day doesn't get better than this! Well organised - liked the staggered starts so that most finished around the same time - so great finish line atmosphere - lots of New Year highs at the end. Pricey but fine - given the contribution to charity... The hills were tough - but the steps were hell! The final downhill sprint to the finish - utterly mad. Great race, great fun. See you next year. Every other 10k will seem very easy after this one ! Actually 10 miles will seem easy too ! Let's face it - your not going to run a PB just after Xmas and New Year - so just add about 40% to your best 10k time and try to beat that. This could be a huge race in a few years time (National Trust permitting) - it's really well organised, friendly with loads of atmosphere and suited to both beginners and elite runners alike. The run through two weeks before is highly recommended because you'll know what to expect and be able to pace yourself (I resisted the race day temptation to shoot up the first hill and ended up jogging very slowly past the guys already walking after 1km). I also, rather cruelly, laughed a lot as one of the elite guys shot past me at 4km and then slid headfirst into a lot of mud - messy. This race is great fun and you'll have a tale or two to tell afterwards, either about the hill climbs or the fast decents (the last km of this race will be your fastest ever). You need to be a little mad to enter - but afterwards you'll think it's madness NOT to enter. I am still buzzing on a high after this race - the perfect start to the year. Forget those boring flat 10k road races. Try one with a few serious hills and a load of mud, on the morning after New Year's Eve. If you want to win, you must grind up the climbs, throw caution to the wind on the slippery descents and eat porrige for breakfast. Very, very silly: What a ridiculous race, more of a slither and slide than run BUT still finished with the biggest grin on my stupid face! Roll on next year! Hard as nails - Only for the mentally unbalanced But this race has just become my favourite all time race !! The name says it all! A great way to start the year. Suicidal In 364 days time I still expect to be on a high. And did those feet in New Year's time descend those dark satanic hills?Yea verily they did,but we all clambered back up again to the sunshine, time after time.And along the amazingly found breath to chat to those guilty of sharing our madness and innocent hikers.Apparently we only ran up one hill but we did it so many times from so many directions that there was always a different crowd of enthusiastic supportes waitng for us at the top.
Entry fee's a pretty penny or two,but a lot goes to charity and I can't stop buzzing from the fun I had so it was money well spent. And tomato soup and butties at the end, quite rightly the sun shone brightly on this race. Don't believe anything you read about it being hilly. It's worse than printed word could ever conceive and yet more fun than could ever be imagined.The handicapped start makes for a party atmosphere with all levels crossing paths at all points round the devilish course. A great way to start the new year. Oh what fun! Murder from start to finish but wholly enjoyable!! Trail shoes would be an advantage! A great way to start the year. My 2nd knacker cracker,forgot just how hard that first hill was !but once again had a great time and will be back for the 3rd time. Just hope medal will be fitting for the hardest 10k race and not like this years ! Try explaining it to the kids when you get home !!! Quality way to start the year Strength sapping, lung bursting, eye watering........ and oh the Savage Steps. Wonderful.. You know you are alive (and quite possibly need reminding of this fact post nye celebrations) when you make it to the top of the last and most challenging acent of Box Hill - The Savage Steps. The descent to the line in one of the fastest and most pleasurable finishes I have experienced. I'll definitely be back for more next year. What a start to the New Year - blows the cobwebs away (and some!) First time doing the race and wasn't nearly prepared enough! Hills, mud, steps and more of the same - says it all! However, will be back next year and will practise more hills in training beforehand!! Tough, dangerous and very muddy. Loved it! Lovely muddy start to the new year. Didn't know I went that fast. Great race.
Yes - the route was unnecessarily sadistic, but heck, it's only 10K. Fab views, sunshine, and a openly friendly race, made up for the dubiously hairy medal ... and carrot?!? I can recommend doing this race in a grass skirt and lei :o) You have to be bonkers to start the new year this way.....and that's we we love it! My 'friend' talked me into 'running' this race with her. What kind of friend gets you to trudge up 4 crazy hills (the last of which is so steep it has stairs!)for 10K to start the year with a guaranteed Personal Worst.......which is why this race is an absolute must-do! With a around 200 other barking-mad 'athletes' launching themselves up the first gruelling hill at 10 minute intervals (slowest first!)there is great sense of camaraderie and trepidation. At the end of this huge effort you get chance to reinact the Sound-of-Music as you appear over the hill for long decent to the finishing line and the welcome appreciation of your fellow in-mates. It's well worth the effort! Utter madness. Impossible hills. Ankle-deep mud. Great fun. 250 steep steps on last hill. Knackered now but conquered the cracker Hard race but welcoming atmosphere and great scenery Very tough in places but the finish made it all worth while. Nothing could have prepared me for the final climb - first time I've been reduced to walking in a race. Bloody tough, but it didn't claim to be anything different! Fantastic organisation and marshalling. Great organisation, very friendly. Very hard 10k race. Very tough race! I thoroughly enjoyed the mad experience! What a great race! Unlike anything I've ever seen! Really enjoyed the race today and the run through on the 18th. Really friendly and encouraging fellow runners, marshalls and spectators out for a family walk on Box Hill! Thanks for organising it so well Dr Rob - My husband's up for the challenge next year too! Knacker cracker - did what it said on the tin! Fab race, well organised, my compliments again to Dr Rob and the team. Loved the medal, (huge) cunningly designed with a long ribbon to hang around your - well, let's just say below the waist! Still don't know what the carrot is for - is there a night section?! Very very muddy this year, and the staggered start meant the step section toward the end was both slippery and a little crowded. A race that is friendly and tough in equal measure - looking forward to the Munro. Hills and mud followed by soup and cheese rolls........ lovely. My kind of race.good staggered start great atmosphere,plenty of pain and hills. the steps at the end just about finished me off! great race, happy marshals,great raffle at the finish!!! see you next year. Loved it, running in the mud, hurdling trees and those steps at the end – great start to a new year!!! My first Knacker Cracker run and wasn't disaponited. Excellent organisation and extremely friendly marshalls and fellow runners, a definite for anyone that likes a challenging run! Great way to start year Great way to start the New Year. Big thanks to Dr. Rob and his team!Fab race, and those hills are a killer, a real challenge to start the year. Combination of long steep hills and muddy conditions really test your legs. Still I've got a whole year to get my legs strong enough for next year. A real test for any runner at any level. Four tough hills, muddy conditions but a excellent challenge on New Years day!
Ouch ouch ouch ouch! Great race, but am I going to hurt later or what?? Perfect way to start the year (if you like running up and down hills until your legs feel like jelly!)
---
While you are on this site, please register for Trionium Magazine. It's free to download, and includes lots of articles of interest to the hearty runner. Click here
---
Post race press release 2006
In all, 102 runners took part in the New Year Box Hill Knacker Cracker this year, covering the challenging 12km course in times ranging from the winner's 51 minutes to a more stately 2:10. The event includes the 'ascent' of Box Hill four times via different routes (the North Ridge, West Face superdirect etc). A fancy-dress category was included, leading to an excellent clown and Catwoman both completing the course. Competitors received a cracker and a carrot in their goodie-bum-bags, as well as a race t-shirt with their name on, and soup and rolls at the end of the race. A free raffle was also held - and the race still raised over £1000 for an orphanage in Kenya.
In the fancy dress category, a clown, Christine Chambers, finished 83rd in a decent time of 1:24:31, while Catwoman - Jenni Van Deelen of Canterbury Harriers, finished 54th in a (whip) cracking 1:15:24.
First finisher (in a new course record of 51:04) was Greg Deacon of Castle Point Joggers, while first lady was Joanna Williams of Bracknell Forest Runners in 1:10:19.
Including Gift Aid, the Knacker Cracker 2006 raised £1862 for several charities - primarily Rianna's Fund, which supports a school for orphaned children in Kenya.
THANK YOU!
The Knacker Cracker was voted the 6th best race in Britain overall in 2006 by runners voting on Runner's World web site.
Thanks to all who voted!
---
What the runners thought in 2006 (With thanks to Runner' World forum thread)
Thanks for organising an excellent race. I thoroughly enjoyed it - my legs were severely aching the next day as a testament to how hard those hills were. For me the soup was the best bit - excellent to have after the run.

Thanks for putting on the hardest race of my life! Never again! Well, maybe!

Happy New Year and many thanks for organising another great Knacker Cracker on New Year's Day. Really liked all the little tweaks and improvements you implemented on the day since last year [slightly different course, more water stations, good trail markers and sign posts, jelly babies and chopped up Mars Bar to give everyone a wee booster!]. The atmosphere is still really friendly, embracive and supportive and getting a medal and a T-shirt with your name on it is a great memento! Each Christmas I make the journey South from Scotland [where I now live] to catch up with my family and friends in Kent and the Knacker Cracker is proving to be a great end to the festive holiday. Family and friends enjoyed spectating. All the best for 2006 and please keep organising this type of event: they are great fun.

Many thanks for the chance to get 2006 on the way with a turbo start. This was my first ever race (must be insane!) and enjoyed it very much.

Just wanted to say thanks to you and your team of marshalls for the knacker Cracker on Sunday. Looking at the other runners at the start line, everyone was thinking "This is Mad!"

Thank you so much for organizing such a great event on the 1st. I thoroughly enjoyed it in a strange masochistic way.

Thanks for organising such a painful intro to the new year. Never been happier or prouder to finish a race. Well done on creating a great monster of a race.

Thanks for a fantastically punishing event. I am a dead cert for next year.

Thanks for organising the race - my legs and knees may disagree with me but I really enjoyed yesterday's race. I'll be back next year!

Thanks for the run, best yet.

What a brilliant well-organized race. I thoroughly enjoyed the challenge. Thanks to all that gave up their time to help. I will be back next year.

It was a great experience in a strange, twisted kind of way, and certainly well organised
Excellent, stomach heaving, run over the nouth downs. Not for the faint of heart. Everyone was made to feel very welcome by Dr Rob and his family. Challenging. Muddy. Makes you spit and curse. I particularly appreciated the opportunity to do a run through before race day with Dr Rob who had invited all those who had entered a few weeks prior to the event. The race fee is higher than most, but half of this goes to charity - can't be a bad thing.

Hard - but I wouldn't have missed it. I felt like I had achieved all my goals for the year in one hit - giving to charity, training hard beforehand (and beating all the girlies!) I was glad to have left something in the tank for the 275 (I didn't count them on the day) steps, only to be super-cooled coming down that last hill! It's a shame there are not more events like it - I'll definitely be there for the Munro - equipped with more grippy trainers... Heartfelt thanks to Dr Rob and the team for the run-through on the 18 Dec and on the day.

Fab

Has to be done: hangover cure it isn't, but it makes you feel very alive

The friendliest race I have run in and a fantastic race to start the new year !

Rob and his crew did a great job, as usual. Considering it was 1st Jan, they looked fresh

A painful intro to the new year. Never been happier or prouder to finish a race. Hard but reward start to the new year. Great buzz around the course: fellow runners, marshalls and spectators all very supportive.Well worth the drive from Oxfordshire for. A great start to the New Year. The other runners were so encouraging to me (I don't normally see anyone after the first mile of a race!). The marshalls were great, thanks for waiting around in the cold for me. Loved the soup and cheese roll at the end. I didn't get the fiver in my cracker either (I wonder if it's a myth?). Love the t-shirt and bumbag. Carrot is in my cupboard and spoon pride of place in the display cabinet. Hope to see you next year (if you'll have me!)

Excellent! Brilliant!! I'll be back! Talk about tough, but it gets the old adrenalin pumping! A pb for next year!!!

Great way to start the New Year - see all the die hards back for the Munro in the summer!

I loved those steps at the end !!!

The most friendly atmosphere of any event I've been in. A genuine tought course, the steps at the end are murder. But a really well run friendly rewarding race. Great t-shirt too.

A great day with very friendly people, but boy its tough!

Fabulous, fabulous, fabulous but now I have to go back to bed!!! A brill way to start the year

A brilliant hangover cure. Thanks to Dr Rob for organising the race again, and in particular a big thankyou to the marshalls, easily the friendliest and most encouraging group I've ever encountered. A great way to start the New Year!

Okay, it's tough, but a great race. Rural fun - Nasty, brutish and not quite short enough. Great organisation, great atmosphere, great race.

Great, v tiring, atmosphere wounderful. Thanks! Enjoyed race very much, organised very well, thanks to all involved. When the memory dies down I'll feel more willing to do it again. All those who ran today are real diehards, good luck to all for the following year.

Well organised but demanding raceGreat way to start the new year. Atmosphere excellent, marshalls terrific support, organisation great, well done to Dr. Robert and his team. Will be back next year for more punishment.

Knackered, Crackered but a brilliant start to the New Year

Fantastic start to the year :-)

Hills are like marmite.... I suppose you either love them or loathe them. Reckon I love them!

And I thought the Cliveden cross country was tough! It's a walk in the park compared to this. The 1 mile hill at the start should have given me a clue. By the third nightmare hill I was walking and I was almost on my hands and knees up the final steps. But the views are glorious, the marshalls are encouraging, the final stretch to the finish is the best in any race I've ever done and you are then fed soup and cheese rolls. Well done to Dr Rob and his team :-)

Brilliant but tough start to the New Year. Fantastic event - very hard for a mere plodder like myself but great sense of achievement on finishing. Organisation great, lots of encouragment from marshalls,supporters and other runners. I'll be back-if only for the soup and carrot! Thanks to Dr Robert and his team for putting on such a great event.
Excellent start to the year, well organised, marshalled and definetly one of the friendlier races. I just loved those steps!

The cracker is a cracker. Very friendly, well-organised, killer course, hot soup.

A great way to start the year, definitely one for the diary

It's not just my knackers that are crackered - pretty much my entire lower body is dead to the world. Great run which is very well organised, attended and marshalled. The atmosphere is excellent with not only spectators and marshalls giving you encouragement but also other runners. Will do this again without a doubt. If only those damn steps weren't there! It may appear rather expensive to enter but some of the money goes to charity (an orphanage in Kenya this year) so I'm not complaining.
One of the toughest races ever! This one is a real killer; hills big enough to make you feel like your lungs are going to bleed! It's very well organised though and the atmosphere was fasntastic, so good to see fellow runners supporting each other so much! The scenery and the sense of acheivement afterwards make all those hills worth it!
---
Post-race press release 2005:
The second Box Hill Knacker Cracker race was run on 1 January 2005: 51 brave souls covered the 11.5km course – which includes five tough ascents, climaxing with a run to the top of Box Hill from the stepping stones across the River Mole. The first man home was John Dick in 1:01:26, and the first lady was Kim Lowe, in 1:17:21. Through the kind donations of the runners, £153 was raised for the Asian tsunami disaster relief fund, and £100 for the St Giles School Ashtead building fund.
Thanks to all participants and marshals for taking part!
And the best bit was?.......The end!
---
Video of the 2005 Knacker Cracker, includes all starts and all finishes: the videos are in Quicktime format.
---
What the runners thought in 2005! (With thanks to Runner's World forum thread)
What a fantastic event, and what friendly and helpful marshals! It was a great way to start the new year. The event was excellent and I would like to offer my significant thanks for the enthusiasm and professionalism of all involved. There was also a great feeling of camararderie among the runners and much cheerful banter and encouragement along the way. The wooden spoon was a great idea also.

Photo courtesy of Graham Russell - see other excellent photos here

I thought the race was a fantastic start to the year. Route finding was no problem, as there was always either a marshall or some tape at those places where there might be doubt about the route. I like the staggered start and would urge you to continue to use it. Thanks for a great race.


Thought I would send you a quick thank you email following the excellent race on New Years day. I really enjoyed the race and was pushed to my absolute maximum on the final ascent.


Great race, fantastic marshals, but includes 1500ft of climb over 12k! Don't do anything stupid the day before like stay up late, drink too much or party.


After an hour of slogging up and down hills, Some nice pedestrians warned me it was slippy on the steps - I yelled back "I've just come down them thanks, I'll be ok" - and then I fell over in the mud. That pretty much sums it up - I had a bad dream last night about hills...


I loved this event - good things don't come cheap, but it's not criminally priced - most of your entry goes to charity and you get massive value for money (and a unique momento and very cool medal this year). It's probably one of the top 3 friendliest races I've run.


Fantastic and challenging way to start the new year

Great event, terrific location, fanastic marshalls & organisation- a real sense of achievement on finishing this race and the post-race carrot is such an incentive to keep going up those hills.

Very hard - the concept of adding just 25% to your 10km time is just plain wrong! (Organiser's note: add 40% for 2006).

Once bitten...... One of those races that leaves your legs somewhere out on the course!

kneebustinglungburningegodeflatingblistercreating KnackerCracker

Second only to the Midsummer Munro for "hardness"

The steepness of the hills and the beautiful scenery are what make this race both challenging and enjoyable. The organisers and marshalls enthusiam make this race special.

This will definitely become an annual event on our race calender. Dr. Rob has done a fantastic job! This race is not for the faint of heart - it was the toughest race I have ever seen, let alone done. You are going up or down almost all the way and the steepness is crazy in places. That said, it would be hard to find a better race if this is your cup of tea. A small, friendly field, well organised, fantastic scenery and a wonderful atmosphere. A marvellous antidote to the mass road races - a breath of fresh air!

Fantastic way to start the new year.

Hard, hilly and if you drank the night before - good luck. I managed to throw up whilst still running - definitely a first for me.

Guys, thanks for all the marshaling. It was a great event, just right for New Year's day. A really nice atmosphere. The funniest bit was descending the steep stairs from the top of box hill to the stepping stones knowing we were due to retrace our steps. You had to smile - just looking at the pain on those coming the other way, knowing you were heading for the same......

The weather was kind to us, and the mars bars at the end were perfect.

Top marks all round, great day, great race, great marshalls.

Great to see and meet so many people, (especially in the little groups).

Cheers Dr Rob and all you wonderful marshalls, Its does what it says on the tin..............

Fantastic run in a great atmosphere. Even the mate I got to run who did not know about the hills until we reached the car park (they just sort of slipped my mind when I talked to him about it) thought it was great, though somewhat slower than the road 10k he was expecting.

A big THANK YOU goes to Dr Robert and all the wonderful race marshals. It was a truly wonderful event, well organised and thoroughly enjoyable. No better place to be, than running those hills on New Years Day !! I must have run everyone of them again in my sleep !!

Spot on Dr. Robert. Thanks to you & all the marshalls; a great way to start the New Year. Those hills have shifted my cold AND my knees feels fine, though I'm having to tackle stairs a bit like Douglas Bader! (Quads are stiff as a board). Just got back from walking the dog and family round some of the great trails I discovered yesterday; oddly, they all seem longer and steeper than I remember...

Fantastic event- great stuff Dr Robert- thanks to everyone for a great day-looking forward to 2006!

What a fantastic race - and I was delighted to see how pleased everyone looked when they discovered that they would have an opportunity to run straight back up that hill they'd just run down, and be rewarded by another of Josie's famous smiles...

Thanks to everyone making the day such fun?

I've just about found my legs again. Better rest up before The Munro.

Thank you Dr.Robert for another great day out on Box Hill. Thanks also to all marshalls and supporters.

Wow. Fab race Dr Rob - will be putting in for the munro

Just looked at the results - last man home, but one of the biggest grins on the video!
---
Post race release 2004
18 brave runners set off on the inaugural 'Bobby's Bare Bones New Year Box Hill Knacker Cracker,' on 1 January 2004, 'organised' in less than a month. One gentleman arrived at the start 20 minutes late, reeking of booze, and asked if there was a race on today. We pointed him in the right direction, and he eventually came sixth. The results are lost in the mists of time, and the course was never repeated. Full respect to everyone who ran in that first race organised by Trionium!
Watch the movie (30Mb) to see how it all began!
13 years on, we found the results - here they are!
| | |
| --- | --- |
| John List | 00:53:48 |
| Kevin Hannavy | 00:56:53 |
| Philip Sanger | 0:58:37 |
| Nick Ffoulkes | 01:01:28 |
| Gary Wood | 01:02:15 |
| Kevin Haywood | 01:02:35 |
| Brandon Musgrove | 01:03:02 |
| Michael Mortensen | 01:07:43 |
| Ian Slaiding | 01:08:20 |
| Andrew Tate | 01:11:17 |
| Joe Courtney | 01:11:54 |
| Linda Ball | 01:11:54 |
| Dan Melott | 01:12:17 |
| John Szponar | 01:12:23 |
| Christine Victor | 01:18:47 |
| Tom Day | 01:37:35 |
| Colin | 01:53:12 |
| Dawn Melott | dns |
| Simon Francis | dns |
| Simon Proctor | dns |
How it all began - the first ever Knacker Cracker, on 1 January 2004:
---
Below - for strong stomachs only.
---
Organised by Conferio Ltd
knackercracker at trionium dot com