The Leith Hill Half

Tough enough?

Dorking - Westcott - Leith Hill

11am, Sunday 17 March 2024 (TBC)

#LeithHillHalf

Including the Wife Carrying Race
A half marathon from Dorking to the top of the highest point in southeastern England - Leith Hill (and back)
15th Leith Hill Half, Sunday 5 March 2023
Continuing its recovery after the Covid pandemic, the 15th Leith Hill Half Marathon attracted nearly 200 of the country's toughest trail-runners for the legendary ascent of Southern England's mightiest mountain - the nearly 1000ft high Leith Hill - tackling the super-direct North Face, with some of them attempting an on-sight climb, never having run as far as a half marathon before. Bold move. Not all were to return (one person felt ill, and got a lift back to the start).
For the ladies, Lucy Aitchison (30, London Heathside) was third in a time of 1:47:03, while Hazel May (26, unattached) was second in a time of 1:45:53. However, winning the race for the ladies for the second time, in a time of 1:37:02, was Katie Lyson (30, Clapham Chasers), placing 23rd overall - fantastic running.
For the gentlemen, there were plenty of quick times, with 13 going under 1:30:00. In third place was Chris Fawcett (32, Hart Road Runners), and in second place was local 'lad' Steve Winder (a scarcely believable 52, Epsom & Ewell Harriers), only 10 seconds behind the winner. However, taking the win (after the lead exchanged hands between the top three several times during the race) was Luke Hilliard (31, Elswick Harriers) - impressively even running the final steps to the 'temple,' apparently the only competitor to run them all.
Well done to everyone who took part - and HUGE thanks to our marvellous marshals!
Quote of the Day #1: "A life-affirming event. One of the things that makes Dorking for me. I really appreciate it." Simon Loomes
Quote of the Day #2: "Thank you for organising another great race. I thoroughly enjoyed myself and I'm looking forward to the next one. Honestly, Spring wouldn't be the same without it." Jane Palmer
Quote of the Day #3: "Thank you very much for the great organisation of the run! This is a great course and l enjoyed it (also the beer last night). I can also confirm that l am very sore today…" Oliver Hasselwander
Quote of the Day #4: "My absolute favourite event! See you next year." Nico Gerber
Quote of the Day #5: "Thanks for organising the event this weekend, it was my first Leith Hill half and my first attempt at a half marathon distance. I loved it and can't wait to run next year." Robert Ubee
Quote of the Day #6: "Thanks for another great event Rob. It went very smoothly! Special mention to the marshals at the Plough and the tower, who were very enthusiastic with their support. I felt bad that I had no puff left to say thank you at the time!" Katie Lysons (first lady!)
Quote of the Day #7: "Thank you so much for your efforts in arranging the race on Sunday. It was a wonderful experience, and I truly appreciated it. Winning first place was an honour, and I thoroughly enjoyed the Denbies sparkling wine and beer that came along with it. I was thoroughly impressed with how well-organised the race was, from the pre-race information email to the post-race breakfast. It was also great value for money." Luke Hilliard (first gent)
Quote of the Day #8: "I just wanted to write and thank you for organising such a fantastic event on Sunday. Huge congratulations to you and all the volunteers. I had the pleasure of volunteering last year and can say from seeing the race from the perspective of a runner and a volunteer, what a marvellous event it is. Lots of lovely friendly, marshalls, great running route and the fry up at the end was the icing on the cake! Huge thanks to the cooks/kitchen staff - nothing was too much trouble for them, they kept everyone fed and well watered. This was my first 'official' half marathon and I'm so pleased I got the opportunity to run a Trionium event. It was tough enough!" Victoria Powell
See you in 2024!
Results are here - make sure to refresh your browser window to see 2023 results.
Steve Rencontre's excellent photos of the Leith Hill Half 2023 - everyone should be on there!
Our photos - not many this year, sorry!
Check out the video below - everyone is on it!
'A runner's race run by runners! '(Mat Johnson, 2020)
The Trionium Leith Hill Half was voted the Best Race in Britain in 2015 (Runner's Word, February 2016)
The Leith Hill Half Marathon is based at the Priory School, Dorking. The run starts on the Nower, proceeds along footpaths and bridleways to the picturesque village of Westcott, and then turns left to climb up the rural byway of Wolvens Track to the Plough Pub at Coldharbour, before making a righ-hand turn to scale the last few hunded metres of ascent to the top of Leith Hill, the highest point in southeastern England (and with views of distant London and the South Downs on a clear day). Apparently there is no higher ground between Leith Hill and the Urals. The route returns along the same track, back to the finish.
Woolvens Lane has been surfaced for the lower 2 miles, making it a much easier run - no puddles: :-(
Leith Hill Half Marathon named as one of Britain's top three best half marathons in 2013 by runners voting at Runner's World
Leith Hill Half Marathon named as England's top half marathon in 2012 by runners voting at Runner's World
Leith Hill Half Marathon named as one of Britain's top three best half marathons in 2010 by runners voting at Runner's World
Leith Hill Half Marathon named as one of Britain's top ten best races in 2009 by runners voting at Runner's World
Leith Hill Half voted one of Britain's top five half marathons in 2008 (14th best race overall) by runners voting at Runner's World
Let's get this straight... it's an out-and-back: the first half is all uphill - the second half is not all downhill!
Including 1836 feet of total ascent and 1836 feet of total descent (GPS measurement)
Race supported by Dorking and Mole Valley Athletics Club
Course records
1:18:52 Lee Kemp (36) Totley AC (2018)
1:30:33 Georgie Bruinvels (28) Aldershot (2017)
Brilliant 3-D fly-through (Good Run Guide)
Below: Your aim - Leith Hill Tower. Note the Monkey-Puzzle tree - it is a bit bigger now.
A postcard view of Leith Hill Tower in around 1920.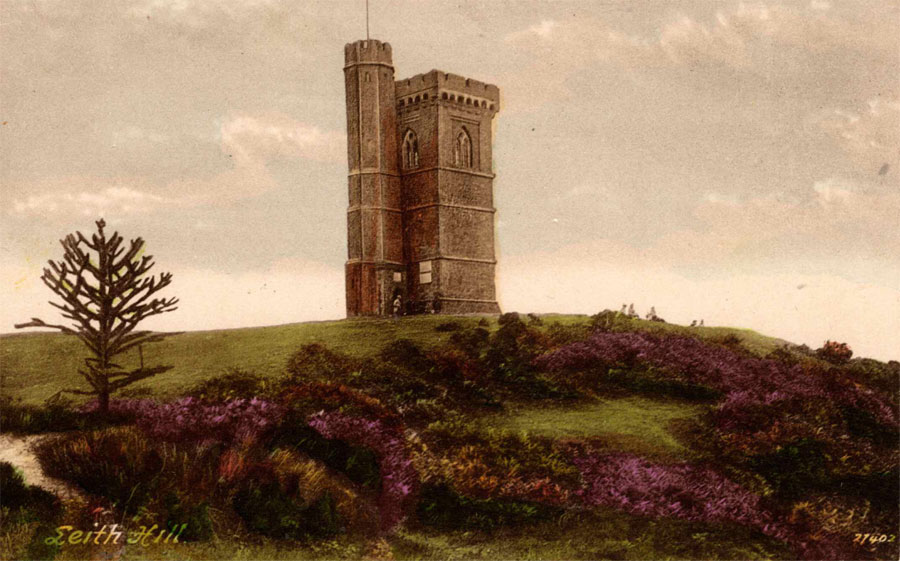 ---
14th Leith Hill Half 2022
Association of Running Clubs permit ARC22/024 (2022)
In 2022, the race made a donation of £1000 to the DEC's Ukraine Humanitarian Appeal
Well done to everyone who ran today - great effort - weren't we lucky with the weather!
Great photos from Steve Rencontre
Our photos of the Leith Hill Half 2022 (photo credits Joe Spraggins and Ben Warwick)
Quote of the Day 1: "Super event as usual. Bloody hard but I was really pleased to finish under 2 hours." Phil Davies
Quote of the Day 2: "Thank you for organising another great event! Really enjoyed it - especially when I went back to my results in the same race 13 years ago - and was only a minute and a half slower. Photos were very good too - even have one of me smiling! Thanks also to the Marshalls and the very cheery kitchen staff too, and a lovely bunch of competitors - with all the madness in the wide world out there, it felt a day for a bit of hope. Really grand day all round - cheers." Christopher Norton
Quote of the Day 3: "Thanks for organising this again Rob. This was my fourth one and to be honest, I kind of missed the pure grit and stubbornness that normally is required to battle the weather as well as the course! That said, I certainly caught the sunshine but think my legs are the worst they ever have been too. My calves are in a whole world of pain – even now …. See you next year, cheers!" Rob Ward
Quote of the Day 4: "I'd like to thank you for organising a terrific event. A run is a run, but the appreciation of it is very much determined by all the details that you put into it. For example, the marshals. They volunteer, and we thank them as we go past. But I really do appreciate the effort they have made to make it possible to run the event. And then the bottle of beer at the end! The thing I most want after a half M is a beer! It is not just a beer. It is a well-deserved and much appreciated bottle of beer." Anthony Yates
Quote of the Day 5: "Many thanks for a great Sunday run. Marshalls take a bow for being friendly and welcoming, weather - well done you played your part and the full English post race - ideal. My third time on the course, each one as good as this. Roll on the Midsummer Munro for more enjoyment." Tom Vellacott
Quote of the Day 6: "Absolutely loved it - weather was great - would also be a lot of fun in much less great weather too I'd imagine!! Thanks so much - a really memorable event." Pete Francis
Quote of the Day 7: "Thank you for organising! It's my favourite race and I enjoyed every minute despite the unexpected blister which emerged a mere 2 miles in. Also, breakfast was superb and please thank the cooks. Looking forward to the Midsummer Munro!" Jane Palmer
---
13th Leith Hill Half
11am, Saturday 29 February 2020... just before Covid!
On a special day that only comes round once every four years, 29 February, 225 very brave athletes, the hardest of the hard-core, gathered at the start of the 13th Leith Hill Half half marathon, despite the torrential hailstorm that had just passed through, and the dire weather forecast. As it turned out, it was a race that was run entirely in fabulous sunshine, albeit on a course that was possibly the wettest underfoot that it has ever been. That a 4x4 was stuck on Woolvens Lane, and that two landrovers could not shift it, is testimony to the bogginess of the conditions, and to the spirit and strength of our wonderful runners. One of the puddles was so deep that one of the shorter (male) runners went in it up to his testicles.
For the ladies, local girl Claire Whittaker (45) was third in 1:56:34, with Debbie Pinder (42) of Horsley Shufflers finishing in 1:53:10. First home for the ladies was Jillian Convey (40) of Shaef Shufflers, doing much more than shuffling, in a convincing time of 1:48:19.
For the gentlemen it was notable that there were some very good times from some of the older runners - showing many of the youngsters how to do it. However, in the top three, it was the youngsters that prevailed. In third place in 1:28:40 was Neon O'Brien, while in second was Cousie Goudesone (30) in 1:28:15. Cousie gets extra kudos for coming from Ghent, Belgium, for the race, as well as having carried his amazing wife Inge in the UK Wife Carrying Race (coming 21st in that tough race). Inge also took most of the race finisher photographs. However, in first place and looking very comfortable was Jonathan Pybus (30, unattached) in 1:25:33. Good work all round!
Leith Hill Half 2020 Results (make sure to refresh your browser window/dump your cache/clear your history to see the results)
Read Matt Johnston's excellent write-up of the Leith Hill Half 2020
A socially-distanced Lockdown Leith Hill Half by The Amazing Rencontres
See race photos below - or click here. Thanks to Gaz and to Inge for the photos!
Quotes of the day 2020:
"Thanks again for a great race. It was particularly brutal this year, but very satisfying. Just in case anyone is wondering how tough it was out there today, even a 4x4 got stuck out there on Woolvens. Definitely a first for me to beat a car in a race! Great marshals, great jaffa cakes and great views at the top, although by that point, I didn't really care, to be honest. I was just glad to get back in one piece!" Chris Mayhew
"Massive thanks to you and your team for another wonderful Leith Hill Half. It was my second one - tougher this year than last year for sure, but just as brilliant. Perhaps more so for the boggy mud and puddles that came up over my knees. And this time what a view from the top! Great timing by the sun - thanks for sorting that out too. The marshals were delightful, and everyone seemed to be having a jolly old time of it. I know I was!" Abi Barber
"Stunning event yesterday. Best atmosphere I've seen in a long while at such an event. Super atmosphere afterwards too. Thanks for your efforts in organising." Steve Smith
---
---
Leith Hill Half 2019
3 March 2019
Wow - great running - but a bit on the damp side!
Leith Hill Half 2019 results (if you can't see this year's results, please refresh your browser window and/or dump your cache - the results are there!)
Please rate the race (Runner's World)
See runner comments on Leith Hill Half 2019 (Runner's World)
Steve Rencontre's photos of the Leith Hill Half 2019
Steve Rencontre's UK Wife Carrying Race/Leith Hill Half 2019 Photo-Story
Our photos of the Leith Hill Half 2019
In 2019, run in memory of local legend Phil Sears - athlete, coach, our some-time lifeguard, folkie, good guy.
A damp and overcast day greeted the 230 runners who gathered to attempt the 12th Leith Hill Half half marathon on Sunday 3 March, starting from the Nower in Dorking. Skirting the detritus left over from the UK Wife Carrying Race, which had happened a few minutes before, the runners slogged up the first hill, enjoying the first of the slippery mud that would be their constant companion for the next 13.1 miles.
Conditions out on the course were, how to put it, 'testing,' with no visibility at the tower, and driving drizzle. Many runners commented on the stalwart marshals, standing in the rain and wind and still giving the runners maximum encouragement. As always, the event could not take place without the excellent volunteer marshals - who are greatly appreciated by everyone!
At the end of the day there were many excellent results, with 19 runners finishing under 100 minutes. The top three ladies were Caroline Cattini (44, Collingwood AC) in third place, Molly Russel (29, Serpentine) in second place and Christine Wakefield (37) finishing in first place for the ladies in a time of 1:48:24.For the gents, James Brown (37, Met Police) was third in 1:27:26, Andy Shaw (23) was second in 1:26:55 and Dave Finch (46 - an experienced runner!) was first in 1:25:07 - which is an astonishing result given the boggy conditions.
Well done to everyone who took part... it turns out, you were all Tough Enough!
Quotes of the day 2019
'Just a quick note to say thank you for organising another great event. This is consecutively the second time I've run it now (yes, I really did come back for more) and my time was an improvement, even though the weather definitely wasn't. That said, it's a great way to kick spring off, if you can believe that it actually is spring. The marshals were as good as ever and the support from people, especially by The Plough, was brilliant and just what I needed to get me up that last stretch. The encouragement between other competitors is really nice too, I even got a few high fives! It's great to do a race with proper runners that doesn't necessarily cater to popular demand. I'm tired of massive, corporate events with 'event villages' and people dressed up in animal suits and so on. So please don't change the route or anything else. This will be the first date in the race diary for next year. I must be mad!' Chris Mayhew
'I hope you have all dried off. I just wanted to send a quick email to say what an absolutely fantastic event the Leith Hill Half was today. I have not enjoyed an event more in my many years of running. The scenery was stunning and everyone was so friendly. Many thanks to the marshals who hung around for us slow ones at the back and even though they must have been cold and fed up, when I spoke to all of them they were very encouraging and up beat. My New Year's resolution was to enjoy my running and your race this morning has definitely fulfilled that. Thank you once again for an enjoyable morning. I will be back next year and may have to take on the Midsummer Munro half too!! You are awesome!!' Kate Neilly
'Two years ago Leith Hill half marathon was was my first ever half. I have run a few since and this is still my favourite. A proper mud-galloping, bog-loping, water-jumping adventure run by proper runners. There's a time and a place for a fancy dress costume and it isn't this race (even if I did finish looking somewhat like Majorie the Trash Heap). The route is fun, the marshals are great (braving the wind and rain) and everyone is so encouraging. Thank you and your team for a great race.' Anton Osborne
'Thank you for an epic event on Sunday - it was my first Leith Hill Half and I loved it. All the mud, rain, wind and mist. Amazing. Fantastic marshalling, wonderful organisation - thank you all. Several of my clubmates (Ealing Eagles) were there too, and have also run in previous years' events and we all feel the same. Brilliant.' Abi Barber
A moment's lapse of concentration - an eternal starring role on the website. Ben Prior after a face-plant into a muddy puddle. Fully in the spirit of the Leith Hill Half!
---
Leith Hill Half 2018
11am, Sunday 8 April 2018 (come early for the UK wife Carrying Race at 10.30am)
Leith Hill Half 2018 results now available (if you can only see 2017 results, empty your computer's cache and then refresh your browser!)
Our photos of the Leith Hill Half marathon 2018 - sorry we didn't get everyone!
Steve Rencontre's photos of the Leith Hill Half 2018
Steve Rencontre's ever-amusing Leith Hill Half 2018 photo-story
On 8 April 2018 - a drizzly, grey sort-of-a-day -210 of the country's finest athletes gathered together on The Nower (an old English word, apparently, that means 'the side of a hill') in Dorking, for the 11th running of the Leith Hill Half half marathon - voted the best race in Britain in 2015. A fast pace was evident from the off, but many would find the huge puddles and thick mud of Woolvens Lane to be 'troublesome.' However, the mud and puddles didn't over-bother everyone, as we shall see. Third lady home was Madeleine Armstrong (37) in 1:51:05, while in second place was local lady Caroline Court (also 37), in 1:49:29. In first place for the ladies (32nd overall) was Emma Holden (40), in a time of 1:46:06. There were some fast times for the gentlemen, with 16 of them going under 1:40. Rich Mallet (31) was in third place in a time of 1:29:26, and in second was Andy Shaw in 1:28:00. However, over nine minutes ahead of the second-placed runner, and setting a new course record by nearly three minutes, was Lee Kemp (36) of Totley AC (winner in 2017 as well), finishing in a super-human time of 1:18:52. Marshals and other runners around the course reported themselves to be astonished at his speed (his 10k time is around 31:30), saying that he seemed to sprint around the entire course. Lee is in fact an ultra-marathoner and fell-runner, who is currently training for a 100-mile race in Madeira, which includes 6600m of ascent and descent. Very, very impressive!
Please rate the race and leave comments here: Rate the Leith Hill Half 2018 (Runner's World)
See race rating and comments (Runner's World)
Leith Hill Half Quotes of The Day 2018:
"Just a quick note to say thank you to you and everyone involved in running the Leith Hill Half yesterday - Another great event this year. I ran it first time last year and now it is my favourite race of the year. Thanks again" Mike Ferneyhough
"Challenging course, but the out and back (ie. mainly uphill, then mainly downhill) nature of it means that at the turnaround point, more than 50% of the work is done and the run home is much easier. God bless the wonderful marshals, cheerful and encouraging whatever the weather. Hot (ish) showers and a fabulous cooked breakfast after the race. Apparently there was swimming available too, though I didn't have the energy. Thanks for another great race Trionium!" Jeanne Kalorkoti
"You've got to love getting tired and dirty and putting your body through hell to enjoy this race - but there is nothing surprising if you've read the website before entering. It says it's tough, and it is. But what was a surprise for me was just how far I'd climbed in the first half. It feels like you're mixing ascent with a bit of descent, but when I got to the turning point wondering how I was going to complete the second half, I was pleasantly surprised at how much of the second half is pure downhill cross country. It was hugely uplifting to be able to run the second half some 15 mins quicker than the first. The rain was actually a bit of a relief as it would have been too warm otherwise and the scenery was magnificent. The same can be said of the organisation and friendliness. This is a race for proper runners, but there was also a warm camaraderie between those who put their bodies through it. Would recommend, but make sure you train!" Steve Hughes
"Fabulous race - amazing atmosphere. Lovely marshalls. No point in even trying to avoid the mud on the way out as it will definitely get you on the way home. Many lakes posing as puddles. Brilliant fun! Just the way races should be and with added National Anthem! (Event t-shirt, mug and medal, plus v. welcome cooked breakfast and post race swim - even though the puddles were enough of a swim for many)." Alex Lord
---
Leith Hill Half 2017
11am, Sunday 5 March 2017 (come early for the UK wife Carrying Race at 10.30am)
The 10th Leith Hill Half Marathon took place on 5 March 2017, starting from Dorking and running to the top of Leith Hill and back. In all, 226 brave runners finished the course, although everyone who finished more than 10 minutes after the first finisher will have been blessed with torrential rain and hail during their run. The puddles on the course this year were compared to swimming pools, and at least two competitors tripped in the puddles and became completely submerged (making this race a duathlon, at least for them!)
Despite the water-logged and very muddy course ('the muddiest in years') there were some fast times - with 17 competitors finishing faster than 100 minutes. For the gentelmen, third home was Marc Leyshon (36) in 1:28:58, second was Stuart Farmer of Fullham RC (40) in 1:27:04, but first finisher in 1:24:20 was Less Kemp (35) of Waverley Harriers. For the ladies, Holly Weir (38) of Victoria Park Harriers was third in 1:43:54, previous race-winner Carla Colinaro (32) was second in 1:37:41, but first lady home, setting a new course record of an impressive 1:30:33, was Georgie Bruinvels (28) of Aldershot. Well done Georgie!
Leith Hill Half Marathon results 2017 (they are there - make sure to refresh your browser window and if necessary, dump/clear your cache!)
Our Leith Hill Half 2017 photos on Flickr - should be one of everyone finishing! Thanks to our photographer Tom Irving
Rate the Leith Hill Half Marathon 2017
See runner ratings and comments
Race write-up by 2nd-placed man Stuart Farmer
Steve Rencontre's photos of the UK Wife Carrying Race 2017
Steve Rencontre's photo-story of the Wife Carrying Race and Leith Hill Half 2017 - in support of his wife Amanda Rencontre...
Quotes of the day 2017:
"I just wanted to say thank you organising yet another fantastic race. I hadn't realised that you now catered for the growing popularity of 'Wild Swimming" but I was only to happy to get totally submerged in one of those monster lagoons! Anyway here's to next years return - with a bagful of fitness and perhaps some speedos!" Ben Lathbury (became completely submerged in one of the puddles after a trip)
"Another fantastic race, albeit in torrid conditions. This is what running is about - getting muddy in beautiful countryside surrounded by smiling runners. Kids loved the Wife Carrying preliminaries too, and the 400m kids' race. Post-race breakfast was fantastic. Great job all and a huge thanks to the marshals for braving the hail!" Jack
"I have done this race a number of times and this was the muddiest yet- a true hippo bath from start to finish. The out and back route make for great camaraderie and popping up at Leith Hill Tower for the turn around always a satisfying moment. This year the tape marking the course was wonderfully generous, just like the marshalls who no matter where you are in the race, make you feel special. Thanks to Dr Rob, the Roblets and the marsahlls and take a bow, and a bath, my fellow runners." Amanda Rencontre
"My brother and I ran the Leith Hill Half for the first time yesterday and just wanted to drop you a short note to congratulate you and the other organisers/volunteers for a very well organised event. It was our first time running this race, and somewhat more interesting and challenging than next weekend's Surrey Half. An added bonus was that the sun was out when we got to the Tower! Good venue, nice friendly people, somewhere to change, hot food and drinks….couldn't ask for more. Thank you!" Colin and Pete Bookham
"The race yesterday was not only my first ever Leith Hill half marathon but my first ever half marathon full stop. I'm not convinced my criteria of 'it's near where I live' and 'I like Leith Hill' were the most sensible. However I had such a great time. The race was wonderfully organised, everyone was so friendly (and full of good advice that I promptly ignored), the marshals were brilliant and the jaffa cakes at the end possibly the best thing I've ever tasted. I think a special mention should go out to the marshall at the top of Leith Hill by the Tower who read everyone's name from their bib and personally encouraged each runner as they ran past and then remembered our names as we all came back past on the way down. His "well done Anton, not far now, good luck" was just what I needed as I started the long run for home. This was only meant to be a short email saying thanks; however I hope the effusive words above conveyed my overall enjoyment of the event. I think it's fair to say I'll see you next year!"Anton Osborne
"Great fun! and friendly out on the course. Marshals very good. Wet course and the hilly terrain was interesting and challenging. Views and countryside exceptional. Loved the shower and food after. An event not to be forgotten, a real epic." Mike Mills
Discussion Thread on the Leith Hill Half Marathon 2017 (Runner's World)
---
Leith Hill Half 2016
11am, Sunday 6 March 2016 (come early for the UK wife Carrying Race at 10.30am)
In near perfect conditions of close to 0°C and sunshine, 240 intrepid souls set out from Dorking to conquer Leith Hill - the south east of England's highest point - not all would return in one piece. A couple of twisted ankles, back spasms and various cuts and bruises were presented at the finish line, usually with a smile and a 'Oh, all that blood? It's just a flesh wound."
The course in 2016 was relatively dry, so there were plenty of fast times, notwithstanding the presence of motorbikes hurtling down Wolvens Lane and also some local horses that blocked the route for a while. Anyway, third in for the ladies was Emma Holden (38) of The Stragglers in 1:48:49, second lady home was Trionium races stalwart Melanie Eyre (35) in 1:47:29, while first lady was Holly Weir (37) of Victoria Park Runners, in 1:42:50. There were lots of fast times for the gentlemen: 23 runners managed to go under 1:40, which is an impressive collection of fast runners (all these runners would go under 1:30 on a flat course). However, in third place was Robin Davies (30) in 1:29:17; in second place in 1:28:46 was Fraser Dawson (49) of Dorking and Mole Valley Athletics Club (not bad for an old guy); while in first place was another Dorking and Mole Valley Athletics Club runner, Nathanael Booker (29) in an excellent 1:26:23. Among many other notable times was the 1:37:44 (17th place) of 55-year old Paul Sinton-Hewitt (Ranelagh Harriers) - who counts as running royalty, since he is the creator-originator of Park Runs. Not just a historic figure in running, but pretty quick too!
Leith Hill Half 2016 Quote of the Day: "I just wanted to follow up with a hearty thanks for organising such a wonderful event. It must be quite an effort to provide such a beautiful off-road course such as this and my congratulations to you and the volunteers for looking after us so well.
Events like this are for proper runners and I don't mean just the faster amongst us. The prospect of running in the countryside with the views offered here make running joyful." Paul Sinton-Hewitt, parkrun founder
Leith Hill Half 2016 photos by Gaz Davies
Steve Rencontre's photos of the Leith Hill Half 2016
Kat Eagle's Leith Hill Half 2016 photos
Kids' race photos (Steve Rencontre)
Photo-story of Wife Carrying Race, Leith Hill Half and the Kid's Race (Steve Rencontre)
Vikki's fab Leith Hill Half 2016 race-write-up blog
See runner ratings and comments on the Leith Hill Half 2016
Leith Hill Half 2016 discussion (Runner's World)
Coach Richard's write up of the Leith Hill Half Marathon 2016
Ian Giles: I thought you'd like to see this photo of one competitor, Simon Loomes, who managed to get a shot of himself with a horse queuing up for tea at the tower in the background. Apparently it didn't have the right change, which is why the queue is so long. Why do those horses always turn up with a tenner and not coins?
Race write-up by James, one for the Banstead Woods Park Run's 'Brothers in Legs'
I have to say the Leith Hill Half is a really top race! Extremely well organised, together with so many "nice touches" including simple stuff like free tea and coffee beforehand.
Also there's a bit of fun with the wife carrying race to take your mind off what's about to come – which is needed.
The course itself is very demanding but never unbearable. The really nice thing is that the terrain is quite mixed – so whilst it's mainly off road there are parts of tarmac which mean you can stretch out. Having said that, some of the Up was pretty seriously UP, and was best tackled with a walk up rather than any attempt to run it.
It's definitely a course to take carefully, given the number of people Dave and I saw at the end with scrapes and bandages on and I had to stop to help when the lady in front of me collapsed with a very bad twisted ankle – very glad to meet her at the end of the race to see she was able to put some weight on it so most likely a sprain and not a break. (no snide comments please I was – for once – only being a good Samaritan!).
The organiser did a really good job with plenty of water stations and very supportive marshals. The other thing was all the runners were pretty friendly as well.
Dave and I were both nervously nursing various niggles (me) and more serious aches (Dave, especially given a small run he's planning on doing in April…), but we both survived to eat the fried breakfast included with the run at the end, which was just what was needed after 13 odd miles and 557m of ascent - at least on my GPS!
What was also really nice was all the other things, such as the t-shirt with all entrants' names on, a pint glass (already christened!) and a decent medal. Definitely a race for other BiL members to consider for 2017…
I could say more but I need to get back to my rehydration therapy…
---
Leith Hill Half 2015
Leith Hill Half 2015 discussion thread (on Runner's World)
See runner comments and ratings 2015
Leith Hill Half 2015 - Photos (Thanks to Ian Giles for these!)
Leith Hill Half 2015 - Tower photos
Leith Hill Half Results 2015 (can't see them? Make sure to refresh your browser page - you might need to empty your cache).
Nice Leith Hill Half and Wife Carrying Race Blog by LibbyLaird (Chippenham Harriers)
On Sunday 8 March 2015 - a day that felt like the first day of spring - 209 brave souls lined up for the 8th Leith Hill Marathon, starting from The Nower in Dorking. Not all were to return. Following a rousing rendition of the National Anthem, the runners set off on the trek up to Leith Hill Tower, via the usually very muddy but actually quite dry Woolvens Lane. Runners commented that the marshals were particularly excellent on this race. An enthusiastic marshal (Amanda Rencontre) acted as the half-way point and runners then had the ecstacy and the agony of the 6.55 mile descent back down to the start (with a couple of sneaky uphills on the course that runners won't have remembered from their outward run, when their legs were so much fresher). Third man in was Michael Donnelly (33) in 1:31:42, while second in (only 15 seconds ahead of his chaser) was Trionium stalwart Paul Davis: Local lad Steve Winder (44, Epsom and Ewell) was the winner of the race in a speedy 1:27:03. For the ladies, Jillian Convey (35, Serpentine) was third, in 1:48:12, second was Jennifer Watt (45, Ealing Eagles) in 1:47:04, while carrying home the ladies' trophy was Melanie Eyre (34). 208 runners finished the race (out of 315 who had registered to run) - alas, Chris Baldam slipped on the rocky descent from Leith Hill Tower and broke his ankle. He declined offers of help, and finding himself a stout stick to use as a crutch, he hobbled the half mile or so to the cricket pitch at Coldharbour, where he was finally persuaded that his day of racing was at an end. One has the feeling that he would have hobbled all the way home with his stick if the St John Ambulance volunteers and the marshals had not be quite so insistent. He finally insisted on driving himself to hospital, where he was - literally - plastered. He was awarded a special medal, 'For Bravery.' He promises to return next year to finish the race. Now, that's the spirit.
Steve Rencontre's lovely photos:
Leith Hill Tower 2015
'Trionium spirit' quote of the day from 'GhostRider,' Chris Baldam :"I was the runner who fell. I broke my ankle. In plaster for 8 weeks. Clean break so that's good."
2nd quote of the day: "An awesome race: eccentric, different. Most importantly, a pure line up a hill and back down in the beautiful Surrey hills," Henry Keighley-Elstub
Below: John Lovenberry's fantastic video of the Leith Hill Half Marathon 2015 - Watch it to relive the pain and the glory! (Viewable in HD -click on the 'cog' in YouTube view)
---
Leith Hill Half 2014
Quotes of the day 2014: Dennis Earl - "A glorious run in the sun"
"Yet again a stunningly wonderful race with views to match. Thank you to you and the marshals for making it such an enjoyable day for all us runners. Probably my favourite run anywhere I have had the pleasure of competing." Peter Vasey
See Leith Hill Half Comments and Ratings 2014
Add your rating and comment on the Leith Hill Half 2014
Leith Hill Half Results 2014 (be sure to refresh your browser window to see this year's results)
Gareth Davies' photos of the Leith Hill Half 2014
Kevin Hann's photos of the Leith Hill Half 2014
Steve Rencontre's photos of the Leith Hill Half 2014 and even more here
Leith Hill Half 2014 Review on TriReview
Leith Hill Half Marathon 2014 Discussion (RW)
Garmin track for Leith Hill Half
On Sunday 16 March, 223 toughened runners set out from the Nower in Dorking to attempt the 7th Leith Hill Half Marathon, in glorious sunshine (and in contrast to a year before when temperatures were 0°C at the start in the snow, and sub-zero at the Tower at the top of the course). The course was in good conditions after nearly two weeks of dry weather and some fast times were recorded. Third lady home was Jenni Ball in 1:45:01, while Sarah Yates was second lady home in 1:41:15. However, first lady home in 1:40:41 was Liz Barker, 34. Third gentleman home was Anthony Doolittle in 1:33:10, second was Michael Roper in 1:32:02, while taking three minutes off his personal best for the course and winning it for the first time in four attempts (and it was all the sweeter for that), was Paul Davis, in a cracking time of 1:29:01.
Congratulations to everyone who took part - and special thanks to all our fabulous marshals!
(2013) 'We visited the Sports and Education Project in Chennai and were delighted to see your shirts still being worn there. We [Rianna's Fund] took shirts over a year ago and they use them for training. Attached is a picture of Vijay who runs the football programme for boys from the slums in Chennai.' Jo Sherring, Rianna's Fund.
---
Leith Hill Half Marathon 2013
Wow - that was a cold one!
Well done to everyone who turned out today - great effort.
MEGA thanks to all the marshals!
Leith Hill Half video 2013 (winners, hay bale hurdlers and prize-giving)
Preliminary results 2013 (make sure that you refresh your browser to see new results)
Leith Hill Half Marathon 2013 photos
Steve Rencontre's excellent Leith Hill Half 20103 photos
See race ratings and runner comments (Runner's World)
Add your comments and ratings - thank you.
John Baker's short race report (more a haiku really)
While conditions will be a bit grim (see weather forecast, below), the race will certainly go ahead on 24 March 2013 - Are you tough enough?
---
Leith Hill Half Marathon 2012
FANTASTIC race today - thanks to everyone, marshals especially!
Leith Hill Half 2012 video on YouTube
Discussion 2012 (RW)
---
On Sunday 6 March 2011, 272 hardy runners set off from the Nower in Dorking to run to the top of Leith Hill and back in one of Britain's most popular half marathons - the Leith Hill Half. After weeks of overcast weather, the clouds broke up and the runners were blessed with a crisp and sunny day - perfect running conditions. Oliver Cass (36) was first man home in 1:28:19, with Paul Davis (28) nearly a minute behind in 1:30:13 and Mungo Wenban-Smith (31) chasing him hard in 1:30:36. First lady home was Claire Weldon (26), who smashed the lady's course record by nearly six minutes, finishing in 16th place in 1:35:35. Second lady home was Holly gilbert (32) of Victoria Park Harriers in 1:44:37, while third lady home was Katie Crowe (34) of Crystal Palace Triathletics, in 1:50:28. Last finisher was Ayesha Moses in 2:49:07, nearly half an hour quicker than the previous year's last placed finisher.
Over 30 marshals helped out at the race. The race race filled up six weeks before race-day and raised over £1000 for local charities.
Huge thanks the mega-marshals!
Photos 2011 - Many thanks to Gaz and Claire
---
Leith Hill Half Marathon 2010
Thanks to everyone who came and ran in the race today - it was ace!
THANKS to the marshals - couldn't have done it without you.
Photos 2010 - thanks to Gaz!
Results - remember to refresh your browser window
RW discussion on the 2010 race
Isobel Lang - famous weather forecaster, running the race - said it was going to be nice out - and she was right. Thanks Isobel!
The third running of the Leith Hill Half Marathon took place in perfect conditions - bright sunshine and cool light winds. The lead runners were away like greyhounds, and by the end of the race we could see why - the course recrod was in their sights. First home was Fernando del Torre (31) of Madrid in a new course record of 1:22:24 (although he would have been quicker if, as he says, 'I had chosen the right shoes and had not got lost'). The previous year's winner, Andy Ward, was second in 1:24:37, despite running the race 80 seconds quicker than the previous year. Third home was Oliver Cass in 1:26:26. First lady home was Natasha Swan in 1:42:42, in 40th place, who was only 11 second outside breaking the ladies' course record. Last runner home came in in 3:18, still in bright sunshine, and ready for her fry-up.
The race raised over £1000 for a number of charities.
Below: Matterhorn (SW or Italian Ridge) seen from the Breithorn West Summit (4100m) - With Leith Hill Half shirt (courtesy Brian 'Mountain Man' Morris)
---
Leith Hill Half Marathon 2009
UK Athletics Permit No. 11527 (2009)
THANKS to all marshals, time-keepers, computer bods, etc etc (the race could not take place without them!).
Special thanks to Andy Fay - all-round super-hero!
Runner comments (Runner's World)
Paul Knivett photos (Leith Hill tower)
YouTube: Start (Andy Southern)
The Wife Carrying Race and the Leith Hill Half Marathon brought competitors to Dorking from across the country and from around the world on Sunday 8 March. The races aid a number of local charities including the Rainbow Trust and Rianna's Fund, and are sponsored by the Pilgrim Brewery in Reigate. The races are also supported by Dorking and Mole Valley Athletic Club. The races take place with the kind permission of the Surrey Wildlife Trust and the National Trust.

In the Wife Carrying Race, six couples (who did not need to be married) raced over a course of around 200m, with a slight incline to the half way point and a 'sprint' back down to the finish. The winning couple, Matt Evans and Jatinder Gill adopted the exotic-looking 'Estonian' hold, and romped home in a new course record of 1 minute and 51 seconds. The winners won their combined weight in beer from the Pilgrim Brewery - a liver-testing 120kg-worth. While the other finishers won themselves beer vouchers, the last couple to finish, Simon Bickerstaff and Louise Piears, won themselves a tin of dog food and a pot noodle.

In the main race of the day, the Leith Hill Half Marathon, nearly 300 runners - including participants from Greece and Mexico - tackled a challenging course over the Nower, up Wolvens Lane to Coldharbour and to Leith Hill Tower - and back again. The race was won by Andy Ward (37) of Herne Hill Harriers in 1:25:57, with Justin West (36) second in 1:27:08 and Michael Maranzano (32, Kingston AC) third in 1:27:34. Meanwhile, a fantastic race was taking place between the top three ladies, who were separated on the finish line by a total of only 32 second. First lady home - and setting a new course record of 1:42:31 - was local girl Caroline Court (28) of Dorking and Mole Valley AC. Only 10 second behind her, however, was Angela Carpenter (39) of Chichester Runners, while Hannah Cunningham (26, Serpentine) was third lady home in 1:43:03. The first three ladies home beat the old course record of 1:43:05. The last finisher came home in 3:32:45, just as the rain came on.
Some of the kind things the runners said about the race in 2009 (with thanks to Runner's World)
10/10 gold star event. Hard to beat. Dr Robert and crew, thanks for a brilliant race. Impossible to fault. Great challenge, scenic course, excellent organisation, well thought out goodie bag, a cooked breakfast...and the national anthem to raise the spirits at the start. Awesome. In the diary for next year already. Best race of the year.

Another fantasic Trionium event - thoroughly recommended. The second Trionium event I've done & equally well organised - a great atmosphere and a challenging but beautiful route - thoroughly recommended.

Leith Hill = Lethal - fabulous event, great course, killer hills! Not to be missed! Brilliant choice of course and venue - a very tough route excellent challenge, hard climbs and breakneck downhills, fantastic friendly encouraging runners and marshalls, great atmosphere - loved the rousing anthem and Union Jack shorts at the start, great water stations and clear markers, nice touches (jelly babies) and carrots at the end - great idea! Great momentos (tech t-shirt with name list, nice medal and paperweight) - all good stuff and worth every penny!
Great race, and good value. Really nice route, although doesn't come as a surprise that it is tough. As a triathlete it's always nice to enjoy the bargain atmosphere of a run event with good value for money (unlike most tri's) and brekkie after as well..... made my day.
Challenging but runnable course, perfect organisation, the most enjoyable race I've done. A nicely challenging course with some nasty hills, especially the climb in the last mile (my legs are still feeling that!). Organisation was perfect, plenty of parking, excellent marshalling with a lot of nice touches that make a big difference - jelly babies at the water stations, jaffa cakes at the end (and a fry up!), very friendly marshalls, plenty of encouraging runners and a nice race t-shirt, medal and momento...fantastic race (as are all of Dr Rob's) and I'll definitely do this again next year. Thanks to all the organisers and marshalls.
Best race so far from me - even the rusty kissing gate added to the good humour!

The t-shirt has your name on the back; how good is that?
Great course, great organisation as always, nice breakfast.
Great atmosphere, great organisation, great scenery, great challenge. Really enjoyed this. challenging, but very friendly and supportive. good fun. lovely countryside too. Excellent, very well organised.

Great adventure (if somewhat tiring!!) - Dr Rob & marshalls were great = proper running experience!
Run yourself ragged with Rob's rugged routes.

Beautiful, friendly and special. Loved it!!
Bookmark Trionium and you won't go wrong. Excellent course providing a great challenge & reward. Dr Rob and his marshals are great and make the day. English breafast? Now the benchmark????
A great antidote to the credit crunch - fresh air and hard graft! Thanks to all the team at Trionium. Leith Hill is my patch and it was great to see so many people out enjoying our fantastic countryside. See you next year.
Fabulous day. Comedy wife carrying, the national anthem and then a run in the woods. I'm having trouble walking today but I'll definitely be back next year.
The only half marathon like it. More up than down rather than out and back.
A happy hilly half. Tough, but good fun too. Such a friendly atmosphere too, the patriotic sing along at the start, and the fry up at the end. I'll be back next year! A great race. The really telling thing about this race is that although it's not a fast race, the mile markers seem to keep on popping up quicker than you expect them - because you're enjoying it so much.

The only event that can make a tough run fun! As ever, Dr Rob and his team provided a well organised event with a great atmosphere. A lovely but challenging course - I forgot how nasty that last hill and steps were! The sing-song at the start, great support from marshalls and spectators and the warm welcome back at the finish made for another worthwhile but tough run. See you in 2010!
SUPER RACE ! Hilly, Tough, Muddy (in parts) and most of all lots of FUN!!!!
Clever route, v hard but worth the effort. Fantastic race, well organised, hard route with a sting in the tail ! V Generous race, Medal, T Shirt,trophy, cooked post race brunch, swim & jelly babies @ every water station and a good big group sing at the start to get you going! GOOD JOB !
Very good, would do it again.

Excellent Views, Great Scenery, A Run that pushes you to the max
Dr Rob and his Dorking Club chums set up a great race as usual. I have a grip(e) though - better vegi sausages please!
Flawless organisation, beautiful scenery, enough hills and glorious weather! Excellent race. Very good atmosphere, friendly, not too elitist and a good mix of ability. The marshalls were very supportive and drink / food stations well stocked. A good number of supporters made the trek to the top of Leith Hill and back down again for the finish. The course is challenging and a relief to turn round at the top. The killer hill at the end is cheeky though. Very good take aways - t-shirt, medal and paperweight. Cost could be lowered by cutting down on these. Enjoyed watching the wife carry and will definitiely be back later in the year and again for this one in 2010. Thank you to the whole Trionium Team.
No flat bits! Mainly up all the way out and mainly down in the way back - with a cheeky steep uphill just before the finish. Very friendly - runners and marshalls. Largely footpaths and bridleways, not too much mud, although a lot of stones and roots on the ground, so care needed. Unusually, got blisters, which slowed me down on the descent. All the pain evaporated with the relief of finishing - and the jaffa cakes and jelly babies, followed by a nice fry-up. I had almost baulked at the £32 entrance fee, but it was worth the price - great, well organised race, decent technical top and nice paperweight memento.
A brilliant initiation to running half-marathons.. Tough race with awesome hills, prepare to get muddy and wet!
Well organised.....gruelling circuit though!! Has to be done at lease once, however the following day I'm thinking once will be enough :-)
Fantastic race. A real challenge, but worth all the pain. Although my legs disagree!
Tough but well worth the effort. A very hard race with long tough climbs but a great route and excellent organisation. A really amazing array of medal, memento and t-shirt made everyone feel as though they had won!. The opportunity for the free swim and breakfast afterwards was a nice touch.
Tough hills but a fair course - great race atmosphere. My first time on this course, but another classic from Dr Rob! I should have expected the killer hill just before the finish, but put that out of my head on the way up. Superb views from the top of the course, and what a relief to know that the majority of the return leg was downhill. Runners weren't quite as encouraging as they usually are on Trionium runs - perhaps the course is too easy?! A huge thank you as always to the marshals - who really were encouraging, even when I'd blown up spectacularly in the 1st mile(!) - and to all the helpers behind the scenes, especially to the canteen staff who must have given up a Sunday morning to provide a full cooked breakfast to weary and mud-spattered runners. I'll be back next year - hopefully with a "wife" on my back!!
Hard...very hard, but delightful!
Jaffa cakes, jelly babies, full English and hills, what's not to like?
Great race, lung busting climbs, but worth it. Watch out for the roots/stones.
Superb - Trionium Quality Race. Rob and the Trionium organisers have a beautiful, fun and challenging race which we all ran for Queen and Country! Best race I have ever been in. Best race of the year. I love this race! Hard work from the off, but so much fun running down hill on the way back. Just walk up the really steep hills and steps and run the rest. Thanks Dr Rob for a fantastic race - I'll be back!

Tough friendly race through some great scenery. For starters this is a tough course, the run up to Leith Hill is a gradual climb pretty much all the way with two steep sections near the top. The second half is back the way you came so pretty much all downhill with a nasty little climb at about 12.5 miles! Surface is a mixture of mainly forest tracks and sand and a bit of grass and tarmac. Overall, a friendly event with lots of encouragement from spectators, marshalls and fellow competitors and no feel of elitism. Probably not an ideal first race (it was mine) but as long as you are prepared to tough it out you will have a very rewarding experience.
Superb organisation and Jaffa cakes at the finish!
Superb as ever. Friendly, fun and a sense of achievement. Well done to Dr Rob and all the organisers. Thank you.
Don't expect to run it all, unless you're superhuman. Tough as nails with some exceptionally killer hills, more x-country than I expected but that made it all the better. Well deserved fry-up after the race along with a tech t-shirt (with your name on that back), a memento and medal. Well worth the £32 entry fee - if not just for the experience. I'll be back next year for sure and I'd highly recommend taking part.
Wow! What a toughy . . . . . . but absolutely fantastic! This race was fantastically organised with great marshalls all the way around. The sweeties at the water stop were most welcome and probably helped my speediness on the way home! That and the thought of the breakfast! These races are always brilliantly organised and the race mementos were great. Will defo do this again - unless I see sense at some point but am now considering the Greensands. I must be mad . . .
Great race, great location, great organisation, great hill!!
Up Up Up, then down down, watch out for the last UP
Another classic from the Trionium stable of events. Hardest half-mararthon I've ever done - yet!
A superb day. And the breakfast was delicious. Fantastic views and a great atmosphere!!
Tough off-road half, with spectacular scenery and a wonderful atmosphere.
The toughest half marathon I have run, but the friendliest and most scenic. Great and much welcomed breakfast after.
Great race in lovely weather. We were lucky with the weather but I think it would have been a great race even without the sunshine. There were a couple of steep hills but most were pretty gradual - which made running up and down them a bit nicer. Really good atmosphere with pretty much everyone in the field being able to encourage each other on due to the out and back nature of the course.
Excellent, excellent, excellent..... what a race!!
Tough but well worth it.
My first half marathon - all the rest will be easier than this - but not as much fun.
Too much fun! Not steep enough! Puddles too clean! Excellent route, easier than the Munro and pleasanter scenery. Terrific atmosphere in runners and organisers - Many thanks to Rob and the team. Next year I shall be leading the start-line singing of the republican anthem, "Barwick Green" - Dum-di-dum-di-dum-di-dum, Dum-di-dum-di-dah-dum!
Fantastic race. This is the second time I've run this race and I'll be back next year. It's great fun despite the tough course. And reaching the half-way point gives you a real psychological boost because you knows it's pretty much downhill all the way back to the finish. Just put that last killer hill to the back of your mind!!
Fantastic atmosphere, fantastic race, fantastic day. Fabulous. I shall be back next year. With an extra pair of legs maybe.
A varied and challenging course and friendly atmosphere as per all the Trionium events I have done. Post race fry up helped ease the memory of whimpering on the last hill.
Excellent race: very nice and difficult course. Great race for having fun and mountain training.
Knackering, inspiring... and loved it. It's all been said already, fabulous organisation, so friendly, encouraging marshalls, a great day out.
Fantastic race plus a full english breakfast included - tremendous.
Brilliant day, punishing run - hills, rocks, tree roots, mud, sandy tracks, but plent of encouragement, great momentoes and cracking fry up after.
This is what running is all about. A tough challenge in a supeb atmosphere.
Very good...especially good momentos at the end - the best bit being the sweets! Very good marshalls...although on the way back I nearly got lost!
Brill event esp course, views, pit-stops, hand-outs, showers, lunch. Great to have shower & lunch before leaving. I would highly recommend this event. It should receive greater acclaim. Really trivial quibbles: no coffee at start, need 1 or 2 more signs (for confidence), showers need de-scaling. But I would still rate this event 99% ! :-) Well done and thank you, all organisers and marshals ! See you next year.
Superb but they're taking the p*ss with the final climb (well death walk). Brilliant, great venue at the school, friendly organisers - great to sing the national anthem (and its not even mine!) - brilliant momentos, wonderful scenery and astonishingly tough in places. What a great race! Fantastic day, challenging run, superb views and wasn't the weather perfect? I rated this as a PB dead cert as it was my first half - and what a memorable one. The fry up after was a genius of an idea. Organisation was typically spot on for a Trionium event and all the marshalls were very encouraging. I'll definitely be back next year.

Brilliant race. I was back doing cross country at school.
Everything a race should be! Hard but enjoyable, great atmosphere, super Race HQ set up for a race of its size. I did this race as a marathon warm-up but it just might become the focal point of my winter training in years to come.
My legs are shot and I ache but, boy, was it worth it! This has to be one of the friendliest races I've ever done as well as one of the toughest. Well marshalled, incredible views (esp. at the 1/2-way point, and sweets, carrots, jaffa cakes and a fry up for the post race munchies (hot showers also). Nice medal and a decent tee, and I like the memento. Hats off to Dr. Rob for a fantastic race! If the rest of the Trionium races are as good as this, I'm almost tempted to do the Picnic.
Lethal but lovely. Just as good as last year, the loss of the maltesers balanced by the lack of hail. Many thanks to all for a great event.
Excellent for all abilities. Really well organised, hard work but rewarding. Great goodies at the end. Will definitely come back next year.
Can't fault a race with a fry up at the end! Great touch.
Great route, great atmosphere, I'll definitley do again, getting more tempted to do the greensand marathon in Oct.
Tough but oh so worth it...!!! What a fab race!!! Excellent organisation, nice touch with sweets at the water stations.. some very tough climbs(but I just walked those bits) and a very long steady climb towards the tower... very friendly marshalls, great atmosphere and now my legs especially my bum is in bits...Was thinking of doing the Picnic marathon.. just a bit more training first I think..
---
---
Race overview 2008
---
The inaugural Leith Hill Half Marathon was run on Sunday 9th March, headquartered at The Priory School, Dorking, and starting from The Nower. A total of 240 runners from all over the UK and abroad started out on the challenging route, which commenced with a lung-burning ascent of the Greensand ridge to gain views over Dorking and towards Leith Hill, and which then ran to Westcott and - via Coldharbour - to Leith Hill, southern England's highest point. Runners were treated to magnificent views out over the Weald towards the South Downs, before commencing their descent along the same route, back to the Nower.
First runner home in a fantastically fast time (and new course record) of 1 hour, 23 minutes and 58 second was Chris Beecham (38) of Highgate Harriers, followed only 61 seconds later by David Chapman (27) of Milton Keynes. Andy Ward (36) of Hern Hill Harriers finished thrid in 1:27:20 and Roger Barr (31) of Thames Turbo was fourth in 1:28:13. First local boy home was Fraser Dawson of Dorking and Mole Valley Athletics Club, in 1:29:04, followed by Epsom's Steve Winder in 1:29:30.
First lady home (again setting the course record) was Kath Phillips (29) of Ranelagh Harriers, in 1:43:05.
The last finisher came home in three hours and 25 minutes, testimony to the challenging nature of the course.
The race was organised to benefit a number of charities, including the Down's Syndrome Association, Rianna's Fund, National Trust and Surrey Wildlife Trust, and will have raised over £1000.
Thanks to everyone who helped out at the race, and we'll hopefully see you again next year!
---
---
Some of the kind things the runners said about the race in 2008 (with thanks to Runner's World)

The best trail run I've ever done (and I've done a few). This is an outstanding event. The organisation made you think it had been going for a decade, but in fact it was the inaugural race! The course is very tough - only elite runners who can do a half marathon in 1:09 would expect to run every yard of it. Expect lung bursting walks, death-defying downhill plunges and MUD. A superb race, the most fun I've had in years. I'll be back.

Wonderful views, sandy underfoot, friendly and challenging!

Excellent . Local, well organised, great scenery, eccentric but fun, great goodies

Very challenging but scenery and route makes this a very enjoyable run. The breakfast afterwards was most welcome. One of the best organised races II have done in a while. Excellent memorabilia. distance markers are missing but who needs them

Two and half hours went very quick!

Apart from a loud hailer being very helpful at the start this is a truly British race - mad dogs and all that. Stunning scenery, fantastic weather and great group spirit of all participants - well done rob and generally everyone !! See you next time

Great Race - Dr Rob has done it again! Would recommend this to anyone who has a penchant for challenges! Absolutely great race - brilliant atmosphere, great organisation, fanstastic scenery. Be warned however, that there is a long slow climb out (for at least a couple of miles), and a killer hill at about 12!

Exremely friendly and supportive marshalls. Excellent setup and good food after the race

Brilliant organisation, great route - my favourite race so far. Tough but fun, with great organisation and a really good atmoshphere - and A FULL ENGLISH BREAKFST AFTER THE RACE FOR ALL COMPETITORS. you can't argue with that!

Nicely challenging course, beautiful scenery, friendly marshalls, plenty of goodies to eat along the way and a great atmosphere. Technical t-shirt and the cooked brekkie were a nice bonus at the end. I'll definitely be back...

Good race, top organisation, tough course - but we were warned!

A beautiful route that's so absorbing you don't feel the (much anticipated) pain! - Until the next day! It was great!

Steep didn't begin to describe some of the climbs! Excellent spirit and support among the runners; helped on the climbs.

From the perspective of a first time Half-Marathoner, this was the type of race that makes you want to come back for more punishment. As one of the youngest racers there, I was overwhelmed by how friendly the whole thing was: already looking forward to next year...

Brilliant race providing a great mix of scenery, challenge, fun, spirit and feel good!

Tip top race, loads of supportive marshalls. Love the quirkyness of the Trionium race. Tough course.

A challenging but friendly mixed terrain half marathon with some nice touches. What a fun event with a small field of 230 runners and a friendly atmosphere. As it is an out and back course the slower and faster runners shout encouragement to each other as they pass. The organiser Dr. Rob adds some wonderfully eccentric touches including a wife carrying race and singing the national anthem at the start. The terrain is mixed, mud, sand and a little bit of road and quite hilly. The marshalls were friendly and encouraging. The water stops included jelly babies and maltesers. At the end you get a bright yellow T shirt (with your name included in a list on the back) and a clear plastic paperweight featuring four runners in 3D; beats a medal. There are showers available after and you even get a cooked breakfast. Can't wait until next year. Well done to all involved.

Over too soon! Dr Rob et al must again be congratulated for another classic in the making. Although not as tough as the Munro (what is?) it was a schizophrenic affair needing good discipline – which I obviously lacked! You might have thought that, as it was mostly downhill for the second half, once you hit the tower it was easy. We who know Dr Rob's fetish for things vertical should not be fooled and the final climb to the Temple was murder! I have always thought that I was "vertically challenged" because I'm short, but this gave new meaning to the term! The rain the day before was a pity - thanks to the detailed route on the website I had done most of the course beforehand and this was amongst the muddiest I have seen it, which meant much weaving between puddled ruts. Overall though a winner. The 80 or so that didn't turn up should be kicking themselves, and I hope they, like me, will be there next year.

Steep. Muddy. Rough. Good fun if the weather's with you. Thoroughly enjoyable - an instant success! This was a fantastic event - a tough and challenging yet scenic course, excellent organisation, friendly atmosphere and to top it off a free post race cooked breakfast for all! This event must surely become an regular fixture after such a successful debut. A hearty thanks to everyone involved.

13 miles of X-country. Brilliant! This has to be the best half-marathon I've ever done, and the slowest time! Over 6 miles going up on the way out, meant an exhilarating six mile downhill section with loads of nice soft mud and sand. Trail running at its finest!

A 'cheeky' little number - great camaraderie

Great race, excellent organisation, tough but much more fun than a standard half marathon.. The time passed surprisingly quickly and I will definitely do it again.

Excellent fun. Luckily the maltesers were larger than the hail stones. Lovely marshalls and fellow runners, course was a b*stard but so very scenic. Good chance of a negative split, very good tshirt, saved me buying a fluoro one.Thanks! Fabulous organisation and perfect if you like hills! I don't!!

Hard, hilly, lot of fun

Not for the faint hearted. The uphills were murder, the down were just glorious. The mud made it all the more fun and the marshals were incredibly friendly. Fantastic race and I would do it again, with a bit more hill training beforehand this time!

Another classic. Another Dr Rob race on the calander is always a good thing. This one is no different. Another amazing race utilizing the best of the Surrey countryside. I had a ball. Many thanks to the fab marshalls (yummy mars bar and maltesers) the Thames Turbo lady who kept me company all the way back, the lovely Andy for laughing at me at the top and all the front runners for their cheery waves, support and encouragement (the true genius of the Dr Rob races)

Great course, great views and great atmosphere. Would definitely do again. Very Friendly Race. Nice tee shirt (though the 'small' would dwarf most women runners I know! Would have been nice to see some vets and team prizes. Prizes only for first man and woman. Could have done without the national anthem at the start! But overall one of the most enjoyable half marathons I've done.

Wonderful run through the hills, very friendly crowd and organizers.


Superb trail-running with a terrific scenic high point in a very friendly atmosphere.

I never knew running up hill in the mud could be so much fun! A brilliant race and great breakfast at the end. Superb!

A fine run up one of the best hills in Surrey. Hard work but worth it.lear the sweat from youverything that an off road should have in it - hills, muds, views (when you clear the sweat from your eyes). One or two more marshalls and this could become a must-run fixture for the season. All things considered - excellent value.

Hard Run , Friendly , But Fab Organisation & Free Full English Breakfast Made It Worthwhile. This was my first cross country. It was hard very hilly in places but a great view from the top made it worth it. Friendly & organisation excellent.

A fantastic inaugural Leith Hill Half and I hope the first of many It was tough going at times but this was to be expected, the organisation was great - especially for the first running of the event and the atmosphere and camaraderie amongst fellow runners was great. The glass memento and T-shirt are better than the tinny old medals that are often dished out. As for all those people griping about the entry fee, running is free, therefore, any event you enter is in effect expensive, I would far prefer to pay £25 for this event than plod along on the FLM which just doesn't do it for me - like so many things in life, you get what you pay for!

'The Sadist' Dr Rob does it again!!! Terrific race - wish I was a bit fitter as I knew I needed to go slow on frst half! MUST be the best half-way point to any half-marathon in the UK. That last hill was an absolute killer. Smashing momento and t-shrt and the cooked breakfast was absolute genious. Well done to all the marshalls, and Dr Rob in particular - oh, and LOVE the National Anthem at the start!!!

Tough but thouroughly enjoyable, beautiful scenery, nice downhill finish, great tshhirt, and nice momento (which I have just noted due to the wording "1st Leith Hill Half Marathon" you could bragg to relatives you actually won!!!) Crazy race - mostly uphill in 1st half and fast desents in second. Fantastic challenge and great organisation

A beautiful setting for a pretty tough race. Watch out for the last hill!!

Fantastic race. Counted this as a training run rather than a race in preparation for FLM. 13 miles of uphill/downhill and uneven ground I'm sure counts for more. Very well organised, good atmosphere and beautiful views of Surrey. It is a bit pricey compared to other races but you get a very good techy T-shirt, lovely paper weight, lunch included and a proportion of money to charity so overall makes a good day out. The marshalls and other competitors that pass on the there/back make it a very friendly and supportive race. Same again next year please Rob

For anyone who has done the Tanners 30 over the Surrey Hills (first Sunday in July, see the LDWA website), you know what to expect. For every up there's a down - a long trudge up to the turning point on Leith Hill and its glorious views and then the predominantly downhill return back to Dorking with the final killer hill towards The Nower. Marshals in all the right places, I didn't get lost. Well organised from this punter's standpoint.

Hilly run with interest all the way and good food at the end. Well organised and very friendly. Excellent.

Knackering but worth it. Love the trophy! Thank you to the excellent marshalls. Shame about the hailstones!!

Awesome! The organisation for this race was second to none in my experience. Dr Rob and his team have gone to considerable lengths with videos of the route, how to get there, a good detailed map of the course and marshalling before the race to find the school and help with parking. Booking in took 45 seconds and I was out getting ready to warm up. This race can be best described as "challenging" but that is what I expect when I go to a Trionium race, pure mud and hill. Marshalls were brilliant and due to the nature of the course , yellow arrows and chevron tape were more than sufficient. Thanks to the St John's Ambulance our unsung heros and heroines for their time and effort. I am sitting here wearing my run t-shirt (with name on back) with a huge grin on my face with my paper weight trophy glinting in the sun, pride and place on the mantel piece.Thank you all, I just loved this race...see there again next year.
---
*Why is this race online entry only?
The online entry fee is included in the race entry fee. The race is online entry only so that the organisers can keep control of race numbers, and to streamline race administration.
---
Organised by Conferio Ltd
lhh at trionium dot com